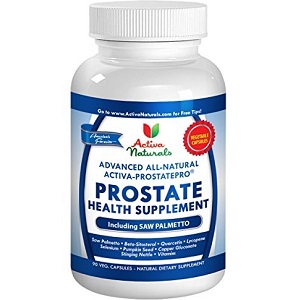 Activa Naturals Prostate Support Formula - Does It Work?-Review
What is Activa Naturals Prostate Health Supplement?
This is a review of Activa Naturals' product Prostate Health Supplement: Prostate Health Supplement is also known as Advanced All-Natural Activa-Prostate Pro Prostate Health Supplement (including Saw palmetto). This product is apparently formulated for men, supplementing their dietary needs. This product is said to improve quality of life, making one feel refreshed and more energized. More so, this supplement claims to support the prostate, the urinary system, and to lessen the chances of any prostate-related disorders.
Ingredients & How It Works
Three (3) capsules provide
Vitamin E (D-alpha acetate) (20 IU)
Vitamin B6 (pyridoxine hydrochloride) (5 mg)
Zinc (picolinate) (50 mg)
Copper (gluconate) (750mcg)
Selenium (amino acid chelate) (200 mcg)
Beta-sitosterol (450 mg)
Saw palmetto (40 - 45% extract) (300 mg)
Proprietary blend (consisting of: quercetin dihydrate, juniper berry powder, uva ursi powder, buchu leaf powder, glutamic acid, L-alanine, L-glycine, calcium D-glucarate, pumpkin seed powder, burdock root powder, cayenne pepper powder, goldenseal powder) (213 mg)
Pygeum africanum (herb powder) (150 mg)
Red raspberry (juice extract) (75 mg)
Graviola (herb powder) (75 mg)
Green tea (50% extract) (75 mg)
Cat's claw (herb powder) (45 mg)
Broccoli (4:1 extract) (30 mg)
Stinging nettle (herb powder) (30 mg)
Lycopene (15 mg); maitake mushroom (15 mg)
Reishi mushroom 4:1 extract (15 mg)
Shiitake mushroom (15 mg)
Other ingredients: vegetable cellulose. These ingredients work to ensure that the prostate functions healthily and that the prostate does not enlarge. All these elements help to strengthen the bladder and to soothe the urinary tract. This ensures that the urinary flow is normal, reducing night-time urination. These substances also help to improve sexual performance and sex drive. Additionally, these ingredients help to lessen risk of prostate cancer.
Daily Serving
The manufacturer recommends taking three (3) capsules daily with water and food. The company does not state whether these capsules should be taken at different times of day, or together during breakfast or lunch.
The Cost
This product is available online. On Amazon, a 90-capsule bottle costs $19.95. The company offers no discounts nor any package deals.
Guarantee
There is a 60-day money-back guarantee on this product. If a client is not satisfied with the product, it may be returned for a full refund.
Our Review Summary Of Prostate Support Formula
This supplement is presented in a gelatin-free capsule, making it suitable for vegans and vegetarians. Another positive aspect of this product is that it comes with a money-back guarantee, therefore reducing the risk to the customer. Our research found that the reviews rate this product above average. However, it should be mentioned that 32 of the reviews on Amazon were deleted because they involved deception. However, this product is not sold at a discount, nor does the company offer this product in various package deals, making it more economical for the user. Also, some of the reviews on Amazon have been removed, indicating lack of objectivity, and providing misleading impressions about this product.
Well researched reviews, from the experts at Research & You.