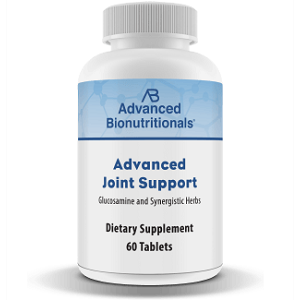 Advanced BioNutritionals Advanced Joint Support - Does It Work?-Review
What is Advanced BioNutritionals Advanced Joint Support?
This is a review of the product Advanced BioNutrionals Advanced Joint Support. The product intends to take care of joints by alleviating pain. The product aims to help you maintain an active lifestyle. It also claims to contain the necessary ingredients which support joint function and also help the body to absorb them better.
Ingredients & How It Works
The product Advanced Joint Support has the following composition:
Glucosamine Sulfate 2KCI
Meriva Turmeric
5-LOXIN Boswellia
Yucca 30% Saponins
Purple Passion Flower
Bioperine Black Pepper
Ginger Root
The ingredient Glucosamine Sulfate is commonly used in joint health supplements, as it helps to rebuild and maintain cartilage in joints. Meriva Turmeric is commonly used to treat arthritis, as well as numerous other inflammatory and autoimmune disorders. Bioperine Black Pepper is used along with this, thereby increasing the Turmeric's bioavailability. 5-LOXIN Boswellia, commonly known as Indian Frankincense, is a powerful anti-inflammatory. Yucca 30% Saponins, also acts as an anti-arthritic. Purple passion flower has been associated with pain reduction in the joints. Another similar ingredient with anti-inflammatory properties is ginger root.
Other ingredients contained in the product are tricalcium phosphate, powdered cellulose, silica, vegetable stearic acid, vegetable cellulose sodium, calcium stearate, rice extract, cellulose coating, and riboflavin coloring.
Daily Serving
The recommended dosage is to take two tablets a day. We could not find any information whether these should be taken with a meal or not and whether these tablets need to be taken together or at different times of the day.
The Cost
One bottle of this product contains 60 tablets which will last for a 30-day period. There are quite a few options available from which you can choose to buy this product. One bottle containing 60 capsules will cost $29.95. A three-bottle package is available at a cost of $79.95 making it $26.65 for each. A six-bottle supply package is available at a price of $149.70, making it $24.95 for each bottle, thereby saving $30. Thus, the more you buy, the less you pay for each bottle.
Guarantee
The product has a good money back guarantee policy in place. If a customer feels that this product is not working for whatever reason, you can simply return all the bottles you had ordered for a full refund (including shipping and handling) within 90 days. The best part is that even if you are down to the last tablet, you will still receive a full refund. You only need to pay the return shipping.
Our Review Summary Of Advanced BioNutritionals Advanced Joint Support
The product Advanced Joint Support offers a great money-back guarantee which allows you to try it risk-free. The company lists citations of the studies that were used to create the product which shows the product in good stride. Also, it lists clearly the benefits of each ingredient used in the product. However, the product focuses mainly on individual ingredient benefits rather than how effective the combination is likely to work. Also, the high price and lack of information about dosage cause a bit of concern. Also, we could not find any customer reviews on sites which are popular, which clearly shows the lack of popularity of the product. So, we definitely suggest checking out other similar products available on the market.
Well researched reviews, from the experts at Research & You.