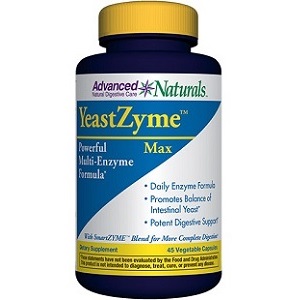 Advanced Naturals YeastZyme Max - Does It Work?-Review
What Is Advanced Naturals YeastZyme Max?
This review is for a product called YeastZme Max and it will examine all the relevant facts about this product. The manufacturer claims that this product has been specially designed to assist with the maintenance of healthy and balanced intestinal bacteria as it supports the detox of yeast.
Ingredients & How It Works
Protease - 300000 HUT
Cellulase - 112500 CU
Hemicellulase - 45000 HCU
Lysozyme - 22500 mcg
Amylase - 18000 DU
Invertase - 1500 SU
Lactase - 750 ALU
Malt Diastase - 375 DP
Lipase - 300 FIP
Glucoamylase - 150 AG
Protease is an enzyme that breaks down proteins. Cellulase and hemicellulose are also enzymes that break down vegetable fibers. Lysozyme is an enzyme which allows the candida to adhere to the intestinal wall. Amylase, invertase, lactase, glucoamylase and malt diastase is an ingredient that allows sugar to be broken up before being absorbed by yeast. Lipase is an enzyme acclaimed for breaking down oils and fats.
Daily Serving
YeastZyme Max is sold in a vegetarian-friendly capsule, containing 60 capsules in a container, translating to 15 servings. Directions on the packaging indicate to take 3 capsules daily before bed. A Special indicator applies to consume the capsules 2 hours after a meal, suggesting that a dietary change to avoid sugar, as well as refined carbohydrates, may contribute to better results.
The Cost
Although not directly available through the manufacturer, a simple internet search yielded a few alternative distributors including Amazon. A container of YeastZyme Max retails roughly between $27.50 and $30.38. There does not appear to be any kinds of discounts available which is unfortunate because this is a somewhat expensive product.
Guarantee
The manufacturer offers no guarantee on their website which creates much doubt regarding the quality standards considering that the manufacturer has failed to show any confidence in their products. Furthermore, there does not seem to be customer reviews available which could assure the concerns regarding the general effectiveness from a social platform based on the experiences of people who have actually used this product.
Our Review Summary Of Advanced Naturals YeastZyme Max
Considering that this product does have some good ingredients and it is fairly simple to use, it could be viewed as an alright product, however, it is fairly expensive and there are no discounts available. It also has no money back guarantee and so if it doesn't work, you can not get your money back and based on our research; there really is not much to indicate that this product really is effective considering the lack of customer reviews and therefore, we recommend that you should probably rather opt for a similar product available from leading and trusted brands which would be more suitable and one that has proven to be effective through customer reviews, manufacturer's guarantees, and one that is more reasonably priced.
Well researched reviews, from the experts at Research & You.