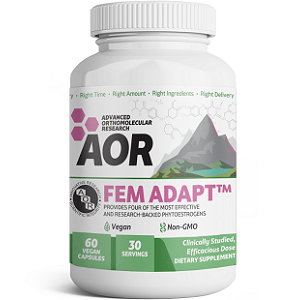 Advanced Orthomolecular Research Fem-Adapt - Does It Work?-Review
What is Advanced Orthomolecular Research Fem-Adapt?
Fem-Adapt is a menopausal dietary supplement manufactured by Advanced Orthomolecular Research, or AOR, that claims to provide a natural and effective solution to balance hormones and moods while reducing hot flashes, night sweats, and the risk of postmenopausal diseases. In the following review, we shall examine the product ingredients as well as assess the customer support offered by the manufacturer.
Ingredients & How It Works
Flax Lignans
Soy Isoflavones
Black Cohosh
Hops Extract
Flax lignans, Soy isoflavones, Black Cohosh, and Hops extract (a trademarked ingredient called Lifenol) are phytoestrogens - which are naturally occurring plant-based molecules that mimic estrogen. In doing so, they offer hormone balancing properties which relieve menopausal symptoms such as night sweats and hot flashes. The manufacturer states that these ingredients are vegan and gluten-free. While these ingredients may be beneficial, however, there are several competitor products that include ingredients such as Wild Yam and Boron - which, if included, could further improve the efficacy of this product in fulfilling menopausal relief.  
Daily Serving
The manufacturer is relatively clear with the dosage instructions - with adults taking 2 capsules daily, waiting a few hours before or after taking other health products. The website is not clear if these capsules should be taken with food. This product may cause drowsiness. If you experience breast tenderness or uterine spotting, it is recommended that you consult your physician. This product must be avoided if you have a history of, or currently dealing with, breast cancer or tumors. Studies have shown that up to 160mg of Black Cohosh per day would prove beneficial for long-term use and optimal results, however, this product contains a significantly lower dosage per serving.
The Cost
If customers would like to buy a bottle of AOR Fem-Adapt, they can purchase it directly from the manufacturer's website for $39,96 for 60 capsules, which will last you one month. You can also purchase this product from third-party sites such as Amazon, but you would pay a slightly higher price of $42,83 per bottle. There seem to be no package options or discounts available.  
Guarantee
There is little to no guarantee available on the manufacturer's website. This is a concerning sign, as it may showcase a lack of confidence within the manufacturer. If customers would like to find out information on the returns policy, it appears they have to contact the manufacturer's customer service team directly. These contact details are available on the contact page. Furthermore, there are also no customer reviews available on the manufacturer's website or third-party sites - giving us no indication that this product is, in fact, an effective menopause solution.
Our Review Summary Of Advanced Orthomolecular Research Fem-Adapt
Advanced Orthomolecular Research Fem-Adapt has key active ingredients that could satisfy the manufacturer's claims; namely balancing hormones and moods while reducing hot flushes and night sweats. The product formula is, however, missing other active ingredients which are included in other menopause supplements - which could mean competitor formulas could be more effective in providing relief of menopause symptoms. The lack of guarantee, return policy, and customer reviews available for this product is a concern; as there is little to no evidence of this product's efficacy. In saying so, we do not recommend this product. 
Well researched reviews, from the experts at Research & You.