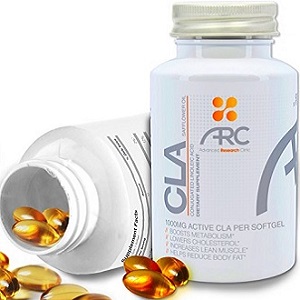 Advanced Research Clinic CLA - Does It Work?-Review
What is Advanced Research Clinic CLA?
The following review is on the Advanced Research Clinic's CLA supplement. Advanced Research Clinic (ARC) claims that their Conjugated Linoleic Acid supplement will help you lose stubborn belly fat by increasing metabolism and lean muscle while reducing appetite and body fat. We shall assess these claims as well as the likelihood of this product being a worthwhile investment.
Ingredients & How It Works
Conjugated Linoleic Acid is a polyunsaturated fatty acid that is known to help reduce body fat by suppressing the appetite and boosting the metabolism. In doing so, it also increases lean muscle mass as well as lowers cholesterol (a fatty substance found in blood and tissue) and thus, CLA provides cardiovascular support too. The product's source of CLA comes from non-GMO pure Safflower Oil Extracts. ACR pledges that this product is free of sodium, sugar, preservatives, lactose, gluten, and fish. The manufacturer follows strict GMP guidelines which may indicate that the ingredients are of a high quality and that the potency per capsule is correct. ACR state that their CLA supplement is formulated for the purpose of providing excellent results. However, it is noted that results are not guaranteed and may vary per individual.
Daily Serving
Each Advanced Research Clinic CLA 1g softgel contains a CLA concentration of 80%, which is a standard market concentration. The manufacturer recommends taking 1 to 2 capsules twice a day with meals. This falls between the CLA suggested daily servings of 1.8 to 7g. CLA softgels are designed for rapid absorption and have been known to cause side effects such as stomach pain and nausea. There have been some customer reviews stating that they experienced side effects such as constipation and bloating.
The Cost
The ARC website does not offer customers the opportunity to purchase the product from its site, so customers must seek it from third-party commerce sites. This product is available on Amazon, retailing at $27,79 for 90 softgels. There is a package option available on Amazon, offering a 15% discount when you buy 3 bottles. There is an opportunity to join the manufacturer's mailing list to receive monthly coupons, but we cannot say how much value this may save you or how frequent if ever, you receive a coupon for this particular product. Even with the bulk purchase and potential coupon, this product use would still be costly to sustain.
Guarantee
Advanced Research Clinic offers a 100% money-back guarantee for this product. While this may serve as confidence from the manufacturer, this claim could be over-compensating for the little to no information available on the return policy. It is unclear whether opened or used products are eligible for returns. Furthermore, there are a few customer reviews that stated that they did not find this product effective.
Our Review Summary Of Advanced Research Clinic CLA
Advanced Research Clinic CLA has the potential to fulfill its claims of promoting weight loss and muscle gain, with a production method that meets GMP guidelines. The manufacturer offers a 100% money back guarantee but is unclear on the policy and processes - which may result in a convoluted return process. There are also a variety of customer reviews that reported this product as ineffective and the expensive price may make this product costly to sustain in the long run. Thus, we do not recommend this product as a worthwhile investment.
Well researched reviews, from the experts at Research & You.