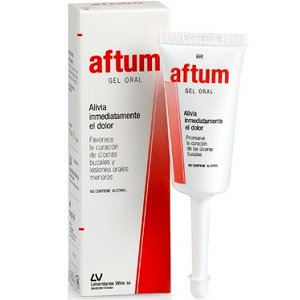 Aftum Oral Gel - Does It Work?-Review
What is Aftum Oral Gel?
Aftum Oral Gel is a natural product that is designed to coat canker sores and protect them while they heal. It is also designed to relieve pain in the canker sore. It is supposedly safe for use during pregnancy and for diabetic patients and it does not interact with any other medication. This review focuses on the relevant facts about this product, such as formulation, price, and guarantee, to help customers determine if it is the most suitable product to apply to their canker sores.
Ingredients & How It Works
The only active ingredient in Aftum Oral Gel is hyaluronic acid. Hyaluronic acid is a molecule that is naturally produced in the body. It is a very important component of the cell membrane and extracellular matrix of the various cells in the body. The extracellular matrix is a collection of molecules that sit between cells and have various responsibilities in maintaining the integrity of that particular tissue. In the case of a canker sore, hyaluronic acid creates a scaffold for new cells to attach to and migrate across so that they can seal the wound.
Hyaluronic acid also has antioxidant abilities. This means that it can stop potent chemicals called free radicals from causing damage in an inflamed area like a canker sore. It has no direct pain reducing ability but does reduce friction on the canker sore which can contribute to reduced pain.
Daily Serving
Aftum Oral Gel must be applied directly to the affected area using the thin and precise cannula (small pipe) attached to the top of the tube. It must be applied three to four times per day after eating, so that food does not remove it from the affected area,
The Cost
Customers can purchase Aftum Oral Gel online (through third-party retailer websites and not directly from the manufacturer) for the price of $19.46 for 0.5 fl oz. The price does not include a delivery charge or taxes. There also does not appear to be any form of discounts for bulk orders or subscription.
Guarantee
Despite extensive research, we could not find any evidence of a guarantee for this product. This essentially means that if customers do not receive the results that the manufacturer claims, they cannot get a refund and will have to spend more money on finding a different product. Not every product works for every person, but trustworthy manufacturers at least take responsibility if their customers are not happy with their results.
Our Review Summary Of Aftum Oral Gel
Aftum Oral Gel contains an active ingredient that is well scientifically researched. The price of this product is quite fair as well. If we compare it to other products that use different ingredients to achieve the same purpose as this one, we find that these other products have more evidence to support their effectiveness. Firstly, these products contain more ingredients to target the problem from different angles and some leading products come with a guarantee which this one does not. 
Well researched reviews, from the experts at Research & You.