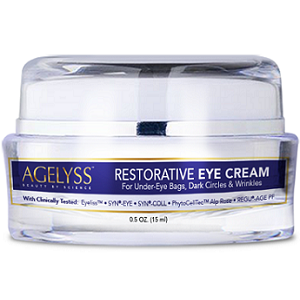 Agelyss Restorative Eye Cream - Does It Work?-Review
What is Agelyss Restorative Eye Cream?
The following review is for a product called Agyless Restorative Eye Cream, that is designed to repair under-eye bags, diminish wrinkles, dark circles and fine lines, and prevent puffiness, tighten and soothe the skin. The manufacturer claims that this product revives tired eyes, restoring their suppleness and providing a youthful appearance. It is made from 5 patented ingredients that have been clinically proven to be effective on an under-eye skin, for all skin types, even on sensitive, mature and sun damaged skin. It is also suitable for both men and women and works well for both genders.
The company has detailed information about all the ingredients on their website, providing all the steps taken to test the ingredients, and the results achieved from the study.
The company also has a Frequently Asked Questions section on their website, which is something that most consumers find useful. Nevertheless, this review we will provide answers about this product, and will help you understand how it works on your skin.
Ingredients & How It Works
This product contains five key ingredients, as listed below:
Regu-Age PF
Eyeliss
Syn-coll
Syn-Eye
Phyto Cell Tec  Alp Rose
Each of these ingredients plays an important role in providing your under-eye skin with nourishment that it needs.
Eyeliss combines three active molecules called Lipopeptide Pal-GQPR, Dipeptide Valyl-Tryptophane, and Hesperidin methyl chalcone. These molecules help improve the firmness and elasticity of the skin; increase lymphatic circulation and decrease the capillary permeability. Furthermore, Eyeliss helps combat under eye-bags caused by tiredness or consumption of particular medication and natural effects of aging;  and smoothen the appearance of fine lines by firming and toning the skin.
Phyto Cell Tec is formulated from the stem cells of an uncommon Swiss apple, which is popular for its excellent longevity. In a cosmetic, like this cream it is responsible for promoting longevity of skin cells, delaying the loss of cell power of division and growth, which leads to aging; fighting the chronological aging; and maintaining the youthful look and liveliness of your skin.
Syn-coll also has anti-aging compounds that help combat wrinkles, fine lines and other aging signs from forming, and decreases the appearance of those that already exist. It also promotes a healthy e production of collagen and protects the collagen from degrading enzymes. This is supported by clinical evidence. During the studies, Syn-coll showed strong effects in preventing and reducing the appearance of various all kinds of age-related signs. There were also no safety concerns about the ingredient, which confirms its safety.
Syn Eye is an ingredient that reduces wrinkles, fine lines, and dark circles within 7 days. It also improves the skin texture and smooths the skin eye area, moisturizes, protects and energizes the skin around the eyes.
Regu-fade has an all-natural trans-resveratrol, with no pesticides and emodin to ensure your safety as a consumer. It works as an antioxidant to counteract free radicals. This leads to healthier and stronger lashes and brows.
Other active ingredients include Citrus Medica Limonum (Lemon) Fruit Extract, Ananas Sativus (Pineapple) Fruit Extract, Vitis Vinifera (Grape) Fruit Extract, Citrus Bergamia (Bergamot) Fruit Oil.
Lemon fruit extract is popular for its powerful antibacterial and toning properties. It is also able to eliminate dirt, and blemishes, leaving your skin clearer and more rejuvenated. Pineapple fruit extract also referred to as Bromelain is rich in carbohydrates and hydroxy acids that provide moisturizing effects to your skin. This ingredient also helps reduce the appearance of dull skin and improves elasticity through cell generation.
The grapefruit extract contains anti-aging properties, that help reduce puffiness under your eyes, and also hydrate and repair the skin, protecting it from the harsh environmental effects like pollution. Lastly, Bergamot is a natural skin cleanser responsible for removing dirt and impurities. It is also able to unclog pores, which is helpful for individuals who have oily skin.
All the ingredients have been formulated without the use of harsh, poisonous substances that may trigger skin irritation and are harmful to your health and the environment.
Daily Serving
This cream is applied by using the tip of your finger. Apply it by using gentle circles to the skin surrounding your eyes. Continue massaging into your skin until it is completely absorbed. You are advised to use if every day, during the day or at night, to achieve optimal results. However, you may customize your own personal use to what works best for you.
One jar may last you up to a month if you follow instructions as suggested. That is why it is advisable to buy more than one jar. Use the bulk opportunity that the company is providing. Otherwise, you will need to purchase every month, which will cost you more time and money. Also, take note that even though some customers have seen the effect of the product immediately or in a few days, the long term effects are not noticeable for up to 4-8 weeks. This makes even more sense why bulk purchases would work better for this product.
The Cost
The trial pack, which consists of one bottle of this anti aging eye cream usually costs $79.00. However, the company offers a discounted price of $59.00 per jar. The discounts are more if you buy three or six jars. You pay $36.00 per jar if you buy three jars, and $32.00 per jar if you buy six.
The product can be purchased online through the company website.
Furthermore, you will not need to pay shipping fees if you purchase for $79.00 or more.
Even though the price is not cheap, it is not expensive either. Most good quality anti aging eye creams cost around the same. Also, it is important to keep in mind that going for cheaper products is not always a good idea, as they are usually of low quality. Furthermore, the manufacturer is considerate of their customers by offering discounted prices on the trial pack, and bulk packs. If you read various eye cream reviews on various products you will notice that customers who purchase cheaper products complain about a number of things, such as developing cysts under eyebrows, having a bad smell, expiring before the expiry date. These are just some of the reviews that we have read on cheaper products. Keep this in mind when you make a decision to buy eye cream. Making a good decision for your skin is the best thing that you can do for yourself.
We have checked other online retailers to see where else you can purchase this product. Unfortunately, you can only buy it directly from the manufacturer. Hopefully, it will not be long before it is available from other retailers.
Guarantee
The manufacturer offers a 365 days money-back guarantee to assure you that they have got your back. Some products either do not offer a guarantee, or they offer a few months, which is not bad. However, a whole year guarantee is even better, as it shows the company is really confident about what the product can do for you. Moreover, it also shows that they put your satisfaction first.
A money-back guarantee means that you can claim for the money that you spent on the product if it does not do what it claims to do.
Our Review Summary of Agyless Restorative Eye Cream
Agyless Restorative Eye Cream appears to be one of the good products available on the market nowadays. We have reviewed hundreds of products before, and the data that we collected shows that this product is amongst the best eye creams on the market. Some of the qualities that we look for are the ingredients.
The ingredients have to be natural; they must be scientifically tested and proven to be effective for what they claim to do and safe for all skin types; they should not be tested on animals; there should be anti-aging properties; there should be no artificial ingredients and preservatives added; and the company website should provide detailed information about the ingredients.
The product must also be backed by a reasonable money-back guarantee period; there should be discounts and bulk purchases. Last but not least, it should be GMP certified, and FDA registered. Our research on this product shows that it contains all the qualities stated above. The detailed information about the study on the company website shows that this firming eye cream does indeed repair under-eye bags, diminish wrinkles, dark circles, and fine lines, and prevent puffiness, tighten and soothe the skin. This is backed by a 365-days money-back guarantee. We have read a number of various eye cream reviews, and so far, we can say that this is amongst the list of good products available on the market.
Based on this, we confidently recommend Agyless Restorative Eye Cream.
Well researched reviews, from the experts at Research & You.