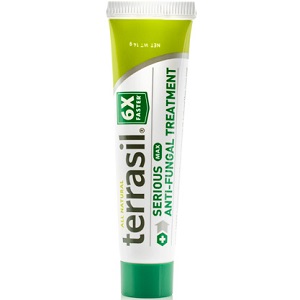 Aidance Terrasil Antifungal Treatment Max - Does It Work?-Review
What is Aidance Terrasil Antifungal Treatment Max?
This is a review for Terrasil Anti-fungal Treatment Max, a natural ointment designed to relieve itchiness, kill fungus and stop infection such as ringworm and tinea.  According to the manufacturer, this product is able to destroy fungus six times faster than well-known brands. You can expect to see results within a week of using Terrasil. Its natural ingredients make it a nutrient rich support for the production of new and healthy skin cells. Apart from giving you the relief from infection and itch, the essential oils contained in it provide you with benefits to your dry and damaged skin.
Ingredients & How It Works
Terrasil is made from the following ingredients:
  Organic beeswax
  Zinc oxide
  Cotton seed oil
  Vegetable stearic acid
  Tea tree oil
  Jojoba seed oil
  Silver oxide
  Magnesium oxide
  Peppermint oil
  Mineral-rich clay
Beeswax, Jojoba Oil, Tea Tree Oil and Peppermint Oil provide relief and other benefits to an infected and itchy skin. Jojoba Oil enters deeply into the skin to fight the source of the problem; Beeswax helps with cell restoration; Tea Tree Oil promotes tissue growth; while Peppermint Oil relieves the pain and itch on the skin. These with other active ingredients relive your skin from infection, giving you the results that you need.
Daily Serving
Ensure that you cleanse and dry the affected area before you apply Terrasil. Then apply a thin coat of Terrasil over the affected area two times a day, in the morning and at night, or as recommended by a healthcare practitioner.
This product should not be used on children under the age of two unless advised by a healthcare practitioner. Discontinue if there is no improvement or if irritation occurs within four weeks of using it.
The Cost
Terrasil is available from the manufacturer's website for a discounted price of $24.00 for a small tube (14g), $40.00 for a large tube (50g) and $106.67 for an extra large jar (200g), which is distributed in USA only. There is no indication of how long the discount will last.
The third-party online retailers sell Terrasil for a price of $35.99 for a small tube and $39.00 for a large tube.
Guarantee
The manufacturer offers you a 90-day guarantee. If you are not satisfied in anyway with this product, simply return the empty container to them for a full refund.  Ensure that you provide a full explanation, giving reasons for returning the product. This should be done within the guarantee period.
Our Review Summary of Aidance Terrasil Antifungal Treatment Max
Terrasil is a promising product. It contains an ingredient that  is known to be effective in combating skin infections, such as ringworm and tinea. It is also promising that the manufacturer offers a 90-day money back guarantee, as it shows their confidence on the product. We could not find any information relating to the period that it takes for an individual to see if it is working or not. This could be dangerous as the customer might continue using the product when they are supposed to stop.
On the other hand, the customer reviews on the manufacturer's website are good, which gives an impression that it is an effective product. We, however have a problem with that because reviews on the manufacturer's website can be easily manipulated by the company. External reviews with verified purchase are more legitimate and trustworthy. After searching for reviews on third-party retailers websites, we found that there are a lot of negative reviews about the product, where customers stated that their situation became worse after using the product. Others did not experience any difference. Taking all these concerns into consideration, we do not recommend Aidance Terrasil Antifungal Treatment Max.
Well researched reviews, from the experts at Research & You.