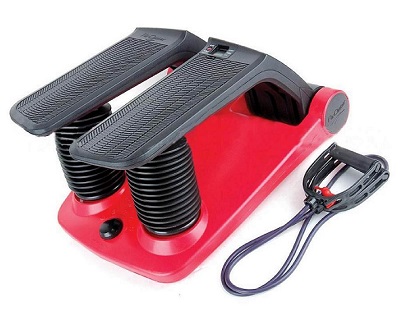 Air Climber-Review
There are many fitness training programs in the market today, and air climber is just one of them. It has received overwhelming support, and it seems like it can actually work. It has been said that the air climber brings aerobic workout to your home.
About the air climber
air climber was a development by Brenda Dygraf, the US aerobic champion. This lady is particularly famous for her expertise in fitness, and she is also a star in over 100 videos on fitness. This is what makes people believe every word she says with concern to fitness. She says that the air climber is an effective machine for workout. The air climber is made up of two steps with springs underneath for pressing down during workout.  It also has two cables that you can press to exercise the arms. It is claimed that the air climber is a fun way of exercising. While performing the routines, you are also exercising the cardio and at the same time losing weight and exercising the abs. It is claimed that the use of the air climber does not cause sore joints because it applies the air principle to eliminate the routines hard impact on the muscles and joints. For these reasons, it is believed that the air climber can tone your legs without any negative effects on the joints. It is claimed that the air climber system can help you lose 10 pounds in 10 days provided you follow the instructions of the program strictly. It is famous because it incorporates fun and exercise together. People are of the notion that, exercise especially for weight loss is strenuous, but the air climber has come with a different idea of having fun while exercising to try and make people purchase it. The fun exercise is what has gotten consumers curious of what this air climber can do for them.
How air climber works
It is said that you can use the air climber for at least 20 minutes daily. You are also asked to have a balanced diet meal plan when under the program. This will lead you to attaining the weight you have desired in a few weeks time. In order for this system to work for you, you should avoid junk food and foods high in fats and cholesterol. The intake of fat food when trying to lose weight is counter-productive meaning all the effort you are putting into the air climber is rendered useless. The air climber is a brilliant idea for weight loss. It incorporates nutritious meal plans with exercise for the great results. Unlike other crash course diet programs in the market, the air climber does not incorporate diet pills in its routine. This ensures that you are losing weight in the healthiest of ways without worrying of any side effects from diet pills. The air climber encourages exercise for weight loss in the natural way.
The cost of air climber
It will only cost you $15 to try out the air climber for one month. During try out of the product, the company sends you a DVD set together with the air climber machine. Once the one month is gone, and you like the air climber, you are allowed to make 3 installments of $40 each. This program comes with a 60 day money back guarantee, where you can return the product, and you get your money back if you found it of no help at all.
Final air climber review
It is ridiculous if you purchase the air climber expecting to loose 10 pounds in ten days unless you plan to over work yourself on the air climber, a little patience will take you a along way. The air climber does work, if you make it a priority to spend at least an hour of your day working out, you are guaranteed that you will not need the money back as you will be happy with what the air climber will do for you. You are guaranteed to loose some pounds each week; this is good and healthy for your body. Like all other products, there cannot be consumers who are 100% satisfied. There are a few critical reviews on the air climber not every exercise equipment was made for everyone, just because it works for some people does not mean it will necessarily work for you. The air climber is definitely worth trying out for the first month for only $15. If it is not worth it for you, feel free to return it, if you are happy with the results you can go ahead and make it yours.  However, you are guaranteed to like it if you are dedicated and focused on what you want; incorporate the exercise with good balanced meals and you will be on your way to that trim body type you have been dreaming of.
Well researched reviews, from the experts at Research & You.