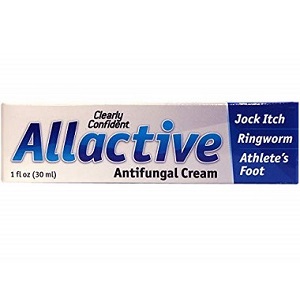 Allactive Antifungal Cream - Does It Work?-Review
What is Allactive Antifungal Cream?
The subject of this review is for a product called Allactive Antifungal Cream. Somewhere in one's life, you may experience an itching and burning sensation due to a fungal infection known as ringworm. As a result, the manufacturer developed an anti-fungal product that aims to help treat this very situation. Keep on reading to see what ingredients are in Allactive Antifungal Cream and if it is an effective product to use.
Ingredients & How It Works
Allactive Antifungal Cream contains Miconazole Nitrate 2%, which claims to help provide fast relief from symptoms associated with ringworm. It also contains emu oil which helps to carry the anti-fungal cream directly through the skin. These are the only two ingredients mentioned and there is no ingredients list made available. However, it does not seem to contain the clinically proven ingredient undecylenic acid. This is the strongest fungal fighting agent and lack thereof may cause the product to be less effective in comparison with other brands.
Daily Serving
The manufacturer claims that users will start to feel relief in 3 days. Unfortunately, there are no usage instructions provided and potential customers will have no information concerning when and how the product must be applied. Lack of crucial information such as this may leave the product ineffective or even harmful to your health.
The Cost
The product can usually be purchased on Amazon, however, it is currently unavailable. In addition to this, there is no price. We were also unable to find out when the product will be in stock again. This is quite unprofessional and may indicate that the product will never be available again.
Guarantee
The manufacturer states that there is a money-back guarantee, however, there is no more information provided. Lack of crucial information may leave the customer lost an confused. In addition to this, it may leave the customer in financial risk. First time customers will not be able to return a product if it fails to provide the stated relief and a refund may be refused. You are better off finding a manufacturer that full backs their product and has full confidence in their product's effectiveness.
Our Review Summary Of Allactive Antifungal Cream
This review of Allactive Antifungal Cream has unfortunately provided us with very little positivity. When looking at the ingredients in this product, we find that it does not contain the strongest fungal fighting agent which has been clinically proven to be effective. Lack thereof may result in a product that is less effective in comparison with other brands. Furthermore, the manufacturer does not offer a solid guarantee, which will leave their customers at risk. Finally, the product is currently unavailable and there is no price made available. We are rather concerned about the results that we have found. These drawbacks have led us to believe that Allactive Antifungal Cream is not an effective solution and you should try to find an alternative anti-fungal treatment.
Well researched reviews, from the experts at Research & You.