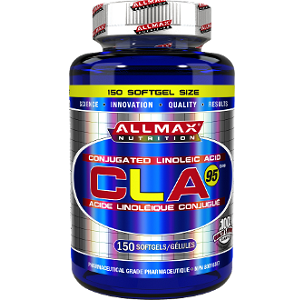 Allmax CLA 95 - Does It Work?-Review
What is Allmax CLA 95?
Allmax CLA 95 claims that their product is one of the highest concentrations of Conjugated Linoleic Acid supplements available on the market and that using their product is a safe and natural way to lose weight. In the following review, we will analyze the product's fat-burning and muscle-building potential as well as whether you should consider purchasing this product.
Ingredients & How It Works
Allmax CLA 95's source of CLA is derived from pure Safflower Oil, which has been chemically altered to contain a high concentration of CLA. With most supplements on the market providing a standard concentration of 80%, Allmax has made a product with a 95% concentration of CLA - boasted as the most potent concentrations available. These active isomers prevent fat from accumulating in cells and any new fat cell growth from forming, shrinking and maturing cells while preserving muscle mass. This product is not Vegan as it is made with bovine gelatin and is made in a facility that handles milk, fish, and soy products - thus posing a potential Allergenic risk. There is also no mention of the production process abiding by GMP guidelines which implies that quality is not guaranteed.  
Daily Serving
The Allmax website states clear dosage instructions; 1 softgel 3 times a day right before meals. Since the concentration is slightly higher than the average market standard, the dosage of 950mg of pure CLA per capsule would fall between the range of suggested daily servings (1.8 to 7g). It is important to follow the recommended daily serving and not to exceed it - as this may result in unwanted side-effects such as diarrhea and a sore stomach. Do not consume while pregnant or breastfeeding.
The Cost
If you would like to purchase Allmax CLA 95, there are two sizes available to choose from: a 90 softgel bottle and a 150 softgel bottle. This product is available for purchase from a variety of international distributors as well as some U.S and Canadian retailers - the complete list is available on the manufacturer's website. It appears this product is not available for purchase on the manufacturer's website; providing no information regarding pricing, discounts, or package deals. The product is available for purchase on third-party sites with the 150 softgel bottle retailing at $27,61.
Guarantee
There is no manufacturer guarantee available on the Allmax website, nor a returns policy of any kind. There is also no customer reviews available on the Allmax website. There are customer reviews on third-party websites; which have reported experiencing side effects such as nausea, headaches, and an irritable colon. Others have said that they have not experienced any significant results.
Our Review Summary Of Allmax CLA 95
Allmax CLA 95 offers a high concentration of CLA that may prove effective in meeting the manufacturer's claims of supporting weight-loss. However, this product is made in a facility that handles milk, fish, and soy products - posing a potential Allergenic risk. There is also no guarantee of quality, as the product was not produced according to GMP guidelines. Furthermore, there is no manufacturer's guarantee or returns policy. Combined with some concerning side effects that were reported by customers; we feel this product does not live up to the manufacturer's claim of this product being a safe way to lose weight and do not recommend it as a worthy product choice.
Well researched reviews, from the experts at Research & You.