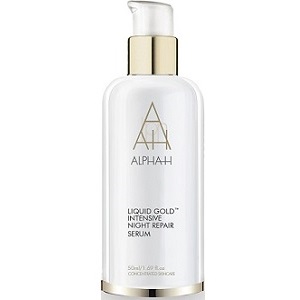 Alpha-H Liquid Gold Intensive Night Repair Serum - Does It Work?-Review
What is Alpha-H Liquid Gold Intensive Night Repair Serum?
This review of Alpha-H Liquid Gold Intensive Night Repair Serum assesses the product's ability to reduce the appearance of wrinkles and other signs of ageing to produce plump and firm skin with a healthy complexion. This product can be used on normal and mature skin. It is designed to help the skin become generally more healthy so that it has a bright and fresh appearance compared to a dull and tired one.
Ingredients & How It Works
Glycolic Extract
Vitamin A
Niacinamide
Palmitoyl Tripeptide 5
Sodium Hyaluronate
Vitamin E
Glycolic acid is an exfoliator that helps to get rid of dead cells on the surface of the skin. Dead cells have a dull appearance and can block the absorption of the other ingredients so glycolic acid helps to brighten the appearance and improve the absorption of the other ingredients. Vitamin A and niacinamide provide important nutritional components to the cells so that they are  able to perform optimally and produce all of the necessary biological products that they need to, such as collagen. Collagen is a strong protein that is responsible for causing firmness in the skin. These two ingredients along with vitamin E are also antioxidants which means that help to reduce inflammation in the skin, which reduces the damage that the skin takes over time. Palmitoyl tripeptide 5 also increases collagen production, and sodium hyaluronate fills in the spaces between the skin cells in order to to plump up the skin.
Instructions
The manufacturer recommends cleansing the face before using the product and then applying 2  to 3 pumps of the the product onto the fingertips and spreading it onto the face and neck. It is best to avoid the eye area with this product and to apply a moisturizer afterward. As the name suggests this product should be applied at night.
The Cost
It will cost the customer $99 to purchase 1.69 fl oz of the product. The price does not include shipping or taxes but customers may achieve free shipping by placing an order that is over $250. There are no subscription services or bulk order discounts but customers can sign up for the manufacturers newsletter to receive various promotional products.
Guarantee
Unfortunately we could not find any evidence of a guarantee for this product  which means that customers take a bit of a risk when purchasing it. If the product does not work for them, then they will have spent their money pointlessly. Many of the leading manufacturers of similar products have got an impressive guarantee which shows the customers that they truly believe the product will work. The same cannot be said for this manufacturer.
Our Review Summary Of Alpha-H Liquid Gold Intensive Night Repair Serum
This product contains many of the right ingredients needed to reduce the signs of aging but it appears that they don't have any of their own patented ingredients, like some other leading manufacturers. The instructions for this product are quite easy to follow.
The price of this product is not reasonable in our opinion because it is a lot of money for a customer to gamble on a product that is not proven to work, or guaranteed for the customer's satisfaction. It is for this reason that we believe customers should look at other products, especially those which have a guarantee. 
Well researched reviews, from the experts at Research & You.