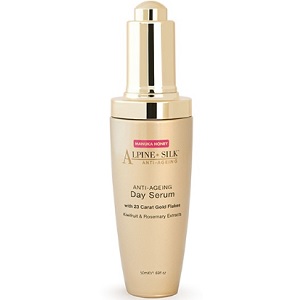 Alpine Silk Manuka Honey Anti-ageing Day Serum - Does It Work?-Review
What is Alpine Silk Manuka Honey Anti-ageing Day Serum?
This Alpine Silk Manuka Honey Anti-ageing Day Serum review focuses on how well the product performs as an anti-aging day serum. Most anti-aging day serums, like this one, are designed to nourish skin cells and firm the skin, getting rid of fine lines and wrinkles. Many, like this one,are also designed to even the skin tone and reduce the appearance of dark age spots while softening the skin so that it has a youthful and healthy appearance.
Ingredients & How It Works
Gold flakes
Rosemary
Kiwifruit extract
Vitamin E
Manuka Honey
Gold flakes have shown some degree of being able to improve the elasticity of skin tissue and slowing down the degradation of the elastic proteins in the skin. Higher elasticity prevents the skin from sagging. Customers should note that the research into the toxicity of gold on the skin is still ongoing and we may only know of any side effects years from now. The rosemary serves as an antioxidant as does the vitamin E. Antioxidants help to reduce inflammation caused by environmental chemicals and pollutants as well as sun damage. This reduction in inflammation reduces injury to the skin cells which stops them from sagging and expressing too much pigment. The kiwi extract helps with exfoliation and stimulates the production of collagen, which is a strong protein that firms up the skin.
Instructions
The manufacturer suggests customers use this product by cleansing the face first and then applying 2 to 3 drops of the serum to the face and neck and massaging it until it is absorbed. The best results of this product is realized when it is used with an SPF product during the day.
The Cost
1.7 fl oz of the product is available for purchase online at the price of $47 excluding shipping and taxes. The manufacturer does have multi package deals but they do not provide the price or availability of these. We were also unable to find any evidence of a subscription service loyalty program or general discounts for this product.
Guarantee
We could not find any evidence of a guarantee for this product or even a returns policy. This means that the manufacturer is not certain enough in their product to offer a refund if customers are unhappy and it also means that customers are at risk of purchasing a product that does not work for them and then losing money.
Our Review Summary Of Alpine Silk Manuka Honey Anti-ageing Day Serum
The ingredients in this product contain some of the necessary nutrients and antioxidants necessary in an Anti-Aging Serum. There is a slight problem in that there is not much known about the safety of the gold flakes. We are also not entirely convinced in the effectiveness of these ingredients together and we are not convinced that customers will always be satisfied by this product because there is no satisfaction guarantee. There are far better established products out there, with well-researched ingredients and a satisfaction guarantee, which are much more likely to meet the expectations of customers. 
Well researched reviews, from the experts at Research & You.