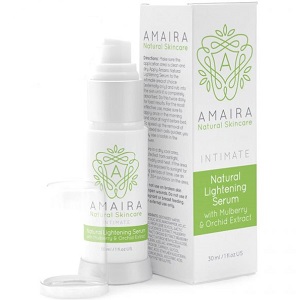 Amaira Natural Lightening Serum - Does It Work?-Review
What is Amaira Natural Lightening Serum?
This review will focus on a product called Amaira Natural Lightening Serum. This product claims to be a serum that helps to lighten dark or discolored skin, whilst boosting healthy radiance. Keep on reading to see what other benefits Amaira Natural Lightening Serum offers for you. See if it is a product worth a try.
Ingredients & How It Works
Deionized water
Glycolic acid
Niacinamide
Kojic acid
Licorice extract
Mulberry extract
Orchid extract
Bearberry extract
Hydroxyethylcellulose
Glycerin
Azeliac
Ammonium hydroxide
Caprylyl glycol
Sorbic acid
Ethylhexylglycerin
Chloroxylenol
Absorbic acid
Sodium metabisulfite
Amaira Natural Lightening Serum contains natural, plant-based ingredients. They claim that these ingredients help to provide a fast-acting skin lightening serum. They also state that The Dendrobium Phalaenopsis Flower (orchid flower) is one of the most important ingredients as it provides the best moisturization. The Mulberry leaf helps to reduce the appearance of fine lines and wrinkles. Unfortunately, the product does not seem to provide ingredients that are patented and backed by clinical studies. As a result, the product may not be as effective as other brands. Another aspect that is lacking is the presence of key ingredients such as peppermint oil, mallow, and Alpenrose.
Instructions
The user must first clean the area they wish to lighten with a light exfoliator and gently pat dry. The serum can then be applied once in the morning. In the evening, repeat the cleansing process and apply the product. Continue this procedure for 6 weeks or until the desired skin tone has been achieved.
The Cost
The product is available for purchase from the manufacturer's official website. The regular price was $66.95, however, the manufacturer now sells it for $41.99. We appreciate this discount, however, customers will not be able to purchase this product in bulk.
Guarantee
The manufacturer states that they provide a 60-day money-back guarantee. A few lines below this statement is another line indicating that the manufacturer offers a 45-day money-back guarantee. This is quite unprofessional. Customers will not know the correct return period. In addition to this, the manufacturer does not know the condition the product may be in upon returning it. This is a weak guarantee and may leave you at risk.
Our Review Summary Of Amaira Natural Lightening Serum
Our final analysis of Amaira Natural Lightening Serum has left us with positive as well as negative aspects. We appreciate the fact that the manufacturer provides clear and helpful usage instructions.
However, we do not like the fact that the manufacturer does not provide clear information concerning their money-back guarantee. This poorly worded guarantee in combination with a lack of crucial information may leave you at risk. Furthermore, we find that the ingredients are not to standards and there is a lack of essential, patented, as well as clinically proven ingredients. Finally, there are no discounted bundle deals available. As a result, we do not recommend the use of Amaira Natural Lightening Serum. There are many more alternative skin brightening products on the market that provide many more benefits.
Well researched reviews, from the experts at Research & You.