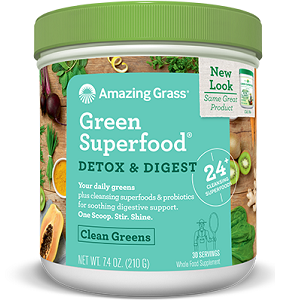 Amazing Grass Green Superfood Detox & Digest - Does It Work?-Review
What is Amazing Grass Green Superfood Detox & Digest?
The manufacturer of Amazing Grass Green Superfood Detox & Digest claims that this product might assist with the elimination of toxins and might provide soothing digestive support.
Ingredients & How it Works
Organic Wheatgrass
Organic Barley Grass
Organic Alfalfa
Organic Spirulina
Organic Spinach
(Cracked Cell-Wall) Organic Chlorella
Organic Broccoli
Organic Pure Açai From Sambazon
Organic Maca
Organic Carrot
Organic Beet
Raspberry
Rose Hip
Pineapple
Green Tea
Acerola Cherry
Organic Flaxseed Powder
Apple Pectin Fiber
Fructooligosaccharides (FOS) From Chicory Root
Lactobacillus Acidophilus
Alpha and Beta Amylase
Protease
Lipase
Lactase
Cellulase
Siberian Eleuthero Root
Peppermint
Organic Wheatgrass offers a source of supply of natural chlorophyll, flavonoids, and amino acids for human health. Organic Barley Grass has a high fiber content and cholesterol-lowering properties. Organic Alfalfa is high in chlorophyll, calcium, and plant protein to treat the dietary tract, cholesterol problems, and blood disorders. Organic Spirulina blue-green algae used as a dietary source of protein, vitamin B12, and iron, has anti-inflammatory and antioxidant benefits. Organic Spinach has antioxidant effects, may help counteract high-fat and high-cholesterol diets. (Cracked Cell-Wall) Organic Chlorella has potential antioxidant benefits. Organic Broccoli has a high concentration of phytonutrients and potential disease prevention benefits. Organic Pure Açai has antioxidant benefits, might assist as a weight loss product. Organic Maca is a root vegetable famous for its role in traditional Peruvian medicine. Organic carrots an important source of vitamin A and lutein.
Organic Beet has a high content of B-vitamins and potential anti-inflammatory benefits. Raspberry benefits weight loss and cardiovascular health. Rose Hip has a high concentration of vitamin C.  Organic Flaxseed Powder has a high concentration of omega-3 fatty acids that may help with lowering bad cholesterol. Pineapple contains bromelain, an enzyme that helps the body digest protein and fat.

Green Tea is a natural source of phytochemicals, flavonoid antioxidants, and caffeine.
Acerola Cherry has high vitamin C and bioflavonoid antioxidant content. Apple Pectin Fiber is a form of carbohydrate that supplies soluble fiber and phytochemicals which may benefit the intestinal environment and cardiovascular system. Fructooligosaccharides (FOS) From Chicory Root provides dietary fiber and microflora which are good for the digestive system.
Lactobacillus Acidophilus a probiotic which helps to improve digestion and maintain health within the gastrointestinal tract. Alpha and Beta Amylase contains enzymes that help digest carbohydrates by catalyzing the transformation of starch into simpler sugars, may aid with digestion. Protease an enzyme that helps the body metabolize protein, may be imperative for the absorption of essential nutrients. Lipase an enzyme that helps the digestive system break down and metabolize the fat in food. Lactase an enzyme required for the breakdown and digestion of dairy products. Cellulase a group of enzymes required to process cellulose within the body. Siberian Eleuthero Root used to treat ailments ranging from low energy to influenza. Peppermint for its ability to soothe the digestive system, and irritable bowel syndrome (IBS).

We would advise the consumer to take note of each ingredient very carefully as this supplement contains a high amount of chlorophyll. Consumers with sensitive stomachs or problems such as kidney stones, ulcers, or gout, might experience discomfort and irritability.
Daily Serving
It is recommended to mix one serving (7 grams) with 8 0z. (or more) of water, juice or a favorite smoothie. The manufacturer advises the consumer to consult with a healthcare professional or registered dietitian before consuming their products.
The Cost
The price for a container of 30 servings is $29.99 available to be purchased online through the manufacturer's website as well as third-party retailers. The manufacturer does offer discounted prices on items bought in bulk.
Guarantee
The manufacturer offers a 30-day money back guarantee if the product has been bought directly from them. The product has to be sealed and unused, and the consumer will be responsible for the return shipping costs. If the product has been opened, it will not be eligible for a return or refund.
Our Review Summary of Amazing Grass Green Superfood Detox & Digest
It is overwhelming to find that the manufacturer does support entrepreneurs by funding microloans in the poorest countries where it is needed the most. However, have we found that this supplement should not be recommended to consumers with current stomach problems or to those that have sensitive stomachs as it contains a high dose of chlorophyll.
The manufacturer offers a guarantee on unopened items only, which restricts the consumer which might have experienced negative effects from this supplement, from the right to return the product.
Well researched reviews, from the experts at Research & You.