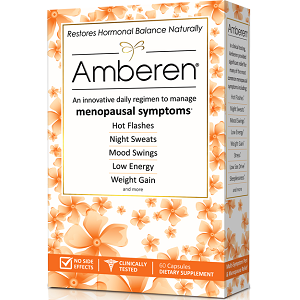 Amberen - Does It Work?-Review
What is Amberen?
This review aims to provide an analysis of Amberen, a supplement that works to relieve symptoms associated with menopause. Amberen claims that its unique formulation restores hormonal balance in the body, the key factor that causes menopause symptoms. As such, Amberen balances these hormones. It also argues that it will stop weight gain, low libido, hot flashes, and irritability. Read below for the facts about this supplement.
Ingredients & How It Works
Amberen contains a 400mg blend of the following:
Calcium Disuccinate
Ammonium Succinate
Monosodium L-Glutamate
Magnesium Disuccinate Hydrate
Glycine
Tocopheryl Acetate
Zinc Difumarate Hydrate
Hormonal imbalance is the primary cause of menopause symptoms. When the functioning of the hypothalamus reduces, menopause kicks in with mortifying side effects. As such, Amberen provides a rejuvenating effect on the hypothalamus. Amberen claims to help the hypothalamus maintain a healthy hormonal balance during menopause transmission. As such it helps provide comfort and relief from hot flashes, fatigue, irritability, mood swings, and other symptoms associated with menopause.
Other Ingredients include:
Carmine
Riboflavin
Gelatin
Magnesium Stearate
Titanium Dioxide
Rice flour
Silicon Dioxide
Water
Daily Serving
Take two capsules, one white and one orange, daily after breakfast. For best results, take Amberen continuously for 90 days.
The Cost
Amberen is available online from the manufacturer's website. It comes with a few different purchasing options. The one month plan will cost you $39.99. However, if you subscribe to auto- delivery, you will only pay $29.99 per bottle. You can also buy a 90-day supply package for $79.99 and an 180-day package for $149.99.
Guarantee
You have 45 days, which starts from the day of purchase, to determine if you want to continue using Amberen as a menopause supplement. If not, return your item to Amberen for a refund. However, that guarantee is only applicable to orders made through their website and telephone order lines. We found a good number of customer reviews on the manufacturer's website. The majority of reviews and feedback are positive.
Our Review Summary of Amberen
Amberen seems to be a decent product for dealing with menopause symptoms based on reviews. The ingredients also seem to be safe with no mentioned side effects. It also comes with a decent 45-day money-back-guarantee, attesting to quality, safety, and confidence.
Nevertheless, we found some few downsides that need your attention. Amberen has no cGMP certification. We can never tire of insisting on the importance of a product and facility having a certificate of Good Manufacturing Practices. That alone puts Amberen's quality and safety in question. Amberen also points out it may take 90 days to see results, yet the guarantee is only for 45 days. Considering the price of a bottle, Amberen is very expensive. This product also does not contain a lot of the ingredients common in other menopause supplements such as black cohosh.
Menopause is not a disease. It is a natural transition in a woman's life. As such, you need and deserve the best product. This is why we hope that our Amberen review has provided you with the information needed to make a purchasing decision.
Well researched reviews, from the experts at Research & You.