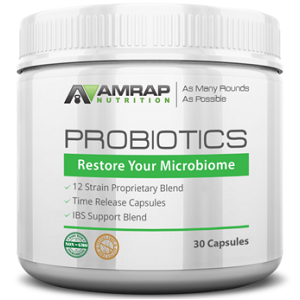 Amrap Nutrition Probiotics - Does it Work?-Review
What is Amrap Nutrition Probiotics?
This review of Amrap Nutrition Probiotics focuses on what this dietary supplement has to offer as a probiotic blend aimed at the treatment of Irritable Bowel Syndrome. We look into the formulation of 12 probiotic strains and how they work together to restore balance to the gut and assist those suffering from IBS to overcome the symptoms and the cause of the problem.
Ingredients & How it Works
Primary Ingredients:
Lactobacillus plantarum
Lactobacillus acidophilus
Lactobacillus rhamnosus
Lactobacillus brevis
Lactobacillus reuteri
Lactobacillus salivarius
Lactobacillus paracasei
Lactobacillus helveticus
Bifidobacterium bifidum
Bifidobacterium longum
Bifidobacterium infantis
Marshmallow root extract
Fructooligosaccharides
Apple Pectin
Peppermint leaf extract
All of the above-listed ingredients consist of a proprietary blend, which puts the blend to a disadvantage as unclear measurements have been used in each capsules formulation, and this may lead to differentiating levels potency from one capsule to another. Otherwise, the different species of Lactobacillus, Fructooligosaccharides, and Bifidobacterium restores stable flora (good bacteria) within the digestive tract, which alleviates the swelling of the colon and promotes healthy digestion. Apple Pectin and the root extracts all contribute to the soothing of the gut and the improved bowel movement.

We wonder why the manufacturer has excluded the powerful ingredient by the name of Bioperine from their blend as it will aid the absorption of all of the probiotic strains, as well Cumin and Aloe Vera which will only complement their blend with their laxative properties.

Other Ingredients:
Vegetable Cellulose
Vegetable Stearate
Daily Serving
The manufacturer suggests that one capsule is to be taken per day, or as advised by a qualified medical practitioner. No information relating to what time of day the capsule should be taken or if it should be supplemented together with a meal or not.
The Cost
The price of a container which has 30 capsules is sold for $39.99. Free shipping is offered for purchases over $49.00 and stock may be ordered directly through the manufacturer's website as well as through third-party online retailers. It's unfortunate that there are no bulk purchase discounts available for this product. 
Guarantee
A 90-day full money back guarantee is offered for unsatisfied customers, this also includes shipping and is not limited to unused products. The condition in which the product may be returned is not stated clearly as the returns portion of the website is still under construction.
Our Review Summary of Amrap Nutrition Probiotics Review
In this review of Amrap Nutrition, we have concluded that this vegan-friendly product has attracted some positive customer feedback. Although, at a second glance we are disappointed by the fact that the manufacturer offers a rather short guarantee period that is much weaker than what is offered by other leading brands. The manufacturer does not offer any bulk purchase options which may not be very economical for users in the long run especially since one bottle only contains 30 capsules which are only a month worth of capsules. We are also concerned about the formulation which happens to be lacking fundamental ingredients such as Bioperine, Aloe Vera, and Cumin.
Well researched reviews, from the experts at Research & You.