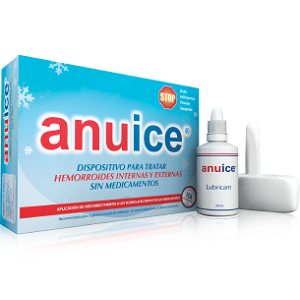 Anuice - Does It Work?-Review
What is Anuice?
When it comes to hemorrhoid treatments, there are several methods you can choose from. One method that is actually quite effective is cryotherapy. As the name suggests, it uses cold temperature to offer relief from symptoms caused by hemorrhoids. You might think that this will require a medical professional to accomplish, but Anuice will prove otherwise. Anuice is a hemorrhoid treatment kit that utilizes cryotherapy and allows you to apply said therapy in the comfort of your own home. While simple and easy to use, this treatment method might not be for everyone. If you are interested, please read our full Anuice review to learn more.
Ingredients & How It Works
The Anuice hemorrhoid treatment kit does not use any ingredients. It basically contains an applicator that you will apply directly to the damaged skin. The applicator is designed in a way to fit the shape and size of hemorrhoids, and it comes in three different sizes. This applicator is stored in the freezer when not in use. It should be kept in the freezer for at least two hours before it is used.
Daily Serving
For internal hemorrhoids, apply the lubricating gel to the tube. Then lie in a comfortable position and insert the tube part of the applicator into your rectum and leave it for 8-10 minutes. For external hemorrhoids, you need to place the applicator on the affected area and leave it for 8-10 minutes. This should be done 2-3 times a day. This could be time-consuming and can only be done while at home. Clean well after use.
The Cost
You can purchase the Anuice kit directly from their official website or through Amazon. You can buy one kit including the device, the lubricant gel, and a container to store the applicator for a total cost of $39.95. You can also buy two kits for a price of $79.90. The manufacturer recommends having two kits so that you will always have one available and ready when you need it. You can buy four kits for a price of $119.85 and six kits for $159.80.
Guarantee
The Anuice Hemorrhoid Treatment Kit does not come with any customer guarantee. This is always a downside with these types of products. This is doubly so for something like cryotherapy which is something not commonly used by the public. As stated earlier, Anuice is not for everyone. Some may take to cryotherapy positively while others might not react to it favorably.
Our Review Summary of Anuice
Overall, we find the Anuice device to be a viable option. It should be safe to use, and a good option for those who can't take certain hemorrhoid products due to pregnancy, nursing, or other reasons. However, the price tag is quite steep, and with no customer guarantee, you won't have any safety net if it turns out to be ineffective. The way that this device has to be applied can also be quite time-consuming and very difficult to use if you are not in the comfort of your own home. We also think that simply using ice wrapped in cloth will yield similar results. We think there are other products on the market that are easier to use and have a more holistic approach to treating hemorrhoids.
Well researched reviews, from the experts at Research & You.