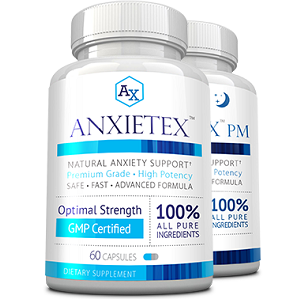 Anxietex - Does It Work?-Review
What is Anxietex?
Anxiety can be a debilitating condition for those who suffer from it regularly or even occasionally. Anxietex, according to its manufacturer, is a supplement which aims to alleviate anxiety and stress, naturally. In addition to assuaging worry and panic, it is also said to promote more restful sleep and make you feel better overall by augmenting serotonin levels. According to the company, the formula is based on published research into the individual ingredients, research that has shown their efficacy in helping to manage the symptoms of anxiety and addressing the deficiencies in the body which are the root cause of this difficult condition.
Anxietex brings a unique approach to the issue with separate day and night time formulas, to target the varying symptoms and their causes around the clock.
In our full review below, we examine Anxietex in detail, discussing all the relevant facts. If you are looking for an anxiety-relief supplement, read on to get the information you need to decide if this is the right product for you.
Ingredients & How It Works
The daytime version contains the following:
Magnolia
L-Theanine
Hops
Jujube Extract
Magnesium
Niacinamide
Bacoppa Monniera
Chamomile Flower
The night time version is made from:
Reishi Mushroom
Hops
Taurine
Jujube Extract
Magnolia
Chamomile Flower
Passion Flower
Valerian Root
In the Anxiety Day, over half the ingredients are aimed at reducing anxiety. These include Chamomile Flower, Magnolia, Siberian Ginseng, Common Oat, Magnesium, and Niacinamide. L-Theanine, Bacoppa Monniera and 5-HTP are included to boost mood.
Similarly, half of the Night Formula ingredients have anti-anxiety properties. On the other hand, Reishi Mushroom and Passion Flower are included for their abilities to relieve insomnia, and Melatonin is known, of course, for helping regulate the body's sleep cycles. Lemon Balm is said to help one sleep more quickly.
Daily Serving 
One capsule of Anxietex Day should be taken in the morning and another in the afternoon. As might be expected one capsule of Anxietex Night should be taken before going to bed.
The Cost 
Both formulas come with a month's supply per bottle, commensurate with the recommended dosages (Day - 60 capsules; Night - 30 capsules). You can buy Anxietex from the manufacturer's website, where you have a number of options. A single bottle costs $49.95. A package of two bottles (one of each formula) brings the per-bottle cost down a lot to $36.00. A set of four (two of each) is priced at $28 per bottle. Finally, a six pack with three of each formula costs $24 per bottle.
Guarantee
Anxietex comes with a sound money-back guarantee. If within 60 days, you are not satisfied with the results, you can return both opened and unopened bottles for a refund.
Our Review Summary of Anxietex
Anxietex, with its unique Day and Night formulas, looks like a product worth considering. Its advantages include the facts that it is comprised of well-researched, all-natural ingredients that have shown success in treating both the symptoms and causes of anxiety. It also comes with a solid money-back guarantee which allows you to see if it works for you, without financial risk. We like what we see in this product.
Well researched reviews, from the experts at Research & You.