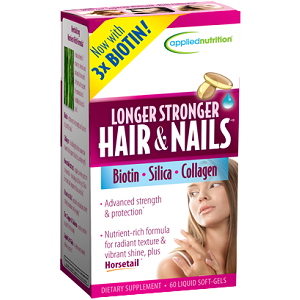 Applied Nutrition Longer Stronger Hair & Nails - Does It Work?-Review
What is Applied Nutrition Longer Stronger Hair & Nails?
Today we review the product Longer Stronger Hair & Nails by Applied Nutrition.  If you are one of those people that are prone to weak, dull and lifeless hair then you would probably understand the importance of a good supplement that can help support optimal hair growth. This product claims to help you get naturally vibrant, strong and shiny hair with the aid of a nutrient-rich complex.  This product also claims to counter the effects of aging when it comes to your body and its overall appearance. If Longer Stronger Hair & Nails sound appealing to you, then read the rest of our review below.
Ingredients & How It Works
Vitamin A
Vitamin C
Biotin
Calcium
Zinc
Copper
Horsetail
Gotu Kola Extract
Hydrolyzed Collagen
PABA
Antioxidant Bioflavonoid Complex
Other Ingredients:
Soybean oil
Gelatin
Purified water
Glycerin
Beeswax
Soy Lecithin
Titanium dioxide
Silicon dioxide
Caramel color
Red cabbage powder
Maltodextrin
One of the main ingredients is Biotin which helps the production of keratin, helping to uphold the structure and strength of the hair. The antioxidant bioflavonoid complex helps to improve circulation of the scalp and provides important nutrients to maximize the shine of the hair. Horsetail extract provides the hair with silica which also upholds the structure of the hair. The vitamins in this supplement help to keep hair vibrant, hydrated and luminous. This product also contains soy and also contains colorants. It is also not stated if this product is suitable for vegans and vegetarians.
Daily Serving
It is advised that you take 2 liquid soft-gels per day. It is not stated if you should take this supplement with meals or on an empty stomach. This product is not suitable for pregnant or nursing women.
The Cost
You can buy this product directly from the manufacturer's website for $17.99 per bottle. Each bottle contains 60 liquid soft-gels and is shipped in 1-2 business days. There does not seem to be a free sample you can try or a discount if you buy in bulk.
Guarantee
The manufacturer offers no guarantee on this product, which means that you are taking a risk when purchasing Longer Stronger Hair & Nails. You are probably better off buying this product from a 3rd party retailer who do offer returns on products that are not satisfactory.
Our Review Summary Of Longer Stronger Hair & Nails
There are a couple of encouraging aspects to look at when it comes to this product. Longer Stronger Hair & Nails is competitive price wise if you look at similar products on the market, which means that you don't have to spend a fortune on good-looking hair. It also has a wide list of mostly natural ingredients, with some that have been proven to rejuvenate hair growth. Unfortunately, this product has some downsides too. It contains soy, which means some people can suffer an allergic reaction and it does not have a guarantee. This product also does not have carefully stipulated dosage instructions and comes with a warning that it can potentially cause birth defects and reproductive harm.
Well researched reviews, from the experts at Research & You.