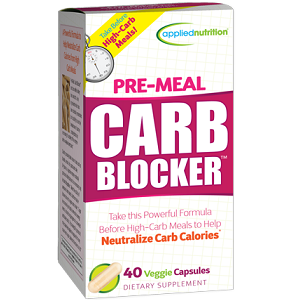 Applied Nutrition Pre-Meal Carb Blocker - Does It Work?-Review
What is Applied Nutrition Pre-Meal Carb Blocker?
Read our review below for Applied Nutrition Pre-Meal Carb Blocker. Pre-Meal Carb Blocker is a dietary supplement that is aimed at promoting weight loss. It contains a key ingredient that has been scientifically proven to slow down the digestion of starch by decreasing the activity of amylase. Amylase is an enzyme that is responsible for breaking down carbohydrates. By slowing down this process less calories will be stored as fat in your body.
Ingredients & How It Works
Pre-Meal Carb Blocker contains 1000mg of White Kidney Bean Extract (1:20) (fruit). We could not find information explaining what the "1:20 (fruit)" means. This is a concern as added ingredients can have an effect on the concentration of other ingredients. On the other hand, white kidney beans are known for their effectiveness on inhibiting starch from being digested and converted into fat, which results in weight loss.
Inactive ingredients: Rice flour, hypromellose, magnesium stearate, and silicon dioxide.
Daily Serving
The recommended dosage is two capsules two times a day just before you eat meals or snacks containing starch. For best results, it is suggested that you take this supplement in conjunction with a low calorie diet and exercise plan. These capsules are taken with eight ounces of water.
Cost
The cost of this supplement is $12.99 per bottle containing 40 capsules, when purchased from the manufacturer's website. You can also purchase it from online retailers at a discounted price of $9.99 per bottle from one retailer, and for $11.47 for two bottles from another retailer. These discounts are only valid for a limited period.
Guarantee
We searched the entire website looking for information on the manufacturer's guarantee, but we could not find any. It seems that they do not have one, which is not good as this affects the confidence that consumers have on the product. If the manufacturer does not show confidence on their product by offering a money-back guarantee, it simply indicates that they do not care about the satisfaction of their customers either.
Our Review Summary of Applied Nutrition Pre-Meal Carb Blocker
Applied Nutrition Pre-Meal Carb Blocker is a promising product. Its white kidney bean extract is a key ingredient and is known to be effective for weight loss. Its price is reasonable, which makes it affordable for almost everyone. However, there are few things that we are concerned about. One thing that is of great concern about this product is that it contains a chemical that is known to interfere with the reproductive system of women. This is worrying because we did not see warning from the manufacturer stating that it is unsafe for pregnant mothers. Another thing is that the ingredients may contain fruit extract, and we do not know what fruit this is and how it affects the product as there is no information provided about it. Moreover, when we read consumer reviews we discovered that most of them were negative. Some indicated that the supplement has a bad tastes, some indicated that it makes them feel bloated while some indicated that they did not see any difference after taking it. The lack of money-back guarantee does not sit well with us. Considering the negative consumer reviews and lack of support from the manufacturer in terms of guarantee, we do not think it would be a good idea to even try this product.
Well researched reviews, from the experts at Research & You.