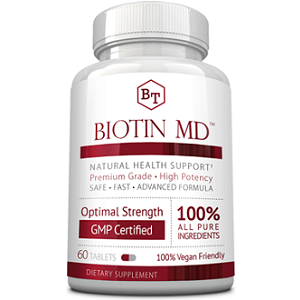 Approved Science Biotin MD - Does It Work?-Review
What is Approved Science Biotin MD?
Today we are going to explore the health benefits of Biotin MD in this Biotin MD review. The manufacturing company of this product, Approved Science, claims that this product helps to improve the condition of your skin, nails and hair. It also supports your metabolism and can actively increase your energy levels. There is also scientific evidence that this product helps to prevent cognitive decline and that it acts as a catalyst when it comes to the repair of tissues and muscles. If you love feeling and looking your best, then this supplement may be able to help you maintain an overall healthy appearance. For more detailed information on how this product works, read the rest of our review below.
Ingredients & How It Works
Each capsule contains 10 000 mcg of Biotin per capsule. Secondary ingredients include Dicalcium Phosphate, Microcrystalline Cellulose, Stearic Acid, Magnesium Stearate, Silicon Dioxide and Croscarmellose Sodium. This product is also cruelty-free and vegan-friendly. Biotin works by acting as a coenzyme in order to help break down fats and proteins so that they can be converted into energy and amino acids. This ingredient specifically helps to metabolize keratin which is one of the key ingredients for maintaining healthy hair, skin and nails. Biotin helps hair to grow faster and thicker and can also help to effectively reverse a B vitamin deficiency which will benefit the health of your skin and nails.
Daily Serving
As an adult, it is recommended that you take two tablets a day 30 minutes before meals with a glass of water. Take one supplement in the morning and one in the afternoon. Do not exceed the recommended dosage and be sure to first consult your doctor if you are pregnant, nursing or taking prescription medication before taking this supplement.
The Cost
You can buy this product directly from the manufacturer's website. One bottle will last you exactly one month if you follow the dosage instructions on the label. One bottle will cost you $49.95, two bottles will cost you $34.95 each, four bottles will cost you $27.95 each and six bottles will cost you $23.30 each. If you buy 6 bottles you will only have to pay for three of them, since there is currently a discount that will give you the remaining 3 bottles for free.
Guarantee
This product does come with a return policy that ensures you will able to return all opened and unopened bottles within 60 days of purchase, if you are not satisfied with your results. This 60-day money back guarantee shows that the manufacturers of this product are very confident in its abilities to help support the health of your hair, nails and skin.
Our Review Summary of Biotin MD
We like that this product is vegan-friendly and cruelty-free. This shows a passion and vision behind this product that is not only high in quality but also mindful of the environment. This product is also very competitive price wise, since it offers a lot of incentives and discounts for buyers that order in bulk. We also love that this product includes high dosage of Biotin in every capsule, which will allow you to see results faster.
Well researched reviews, from the experts at Research & You.