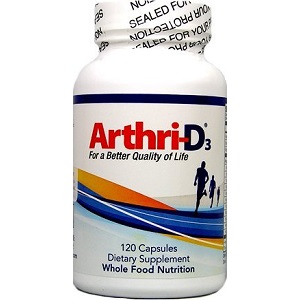 Arthri-D3 - Does It Work?-Review
What Is Arthri-D3?
Arthri-D3 is a dietary supplement designed to help those who suffer from joint pain. It can, according to the company that makes it, help improve arthritis and other joint disease conditions. It uses what is said to be an all-natural formula to reduce the chances of unwanted side effects and is claimed to help reduce inflammation, aid in joint lubrication, improve joint flexibility and reduce joint pain. Is Arthri-D3 the right product to help with your joint conditions? Read our full review below and then decide.
Ingredients & How It Works
Arthri-D3 contains four active ingredients:
Vitamin C - Works as an anti-oxidant that prevents damage to joints and increases the production of collagen.
Vitamin D - Helps reduce arthritis and osteoarthritis in joints.
Magnesium - Increases bone density, which decreases the effects of arthritis.
Proprietary blend which contains:

N-Acetyl D-Glucosamine - Derived from shellfish
Chondroitin Sulfate - Reduces pain and inflammation and improves joint function.
Rice Flour - Reduces joint pain.
Turmeric Extract - Reduces pain, stiffness, and inflammation in those suffering from RA.
Boswellia Serrata - Used to treat arthritis.
Ashwaganda - Helps reduce joint pain in the knees.
Yucca - Typically, used topically to treat joint pain.
Bromelain - Multiple health benefits, including reducing joint pain.
Evening Primrose Oil
Perna Canaliculus - Helps manage degenerative joint disease and other joint-related diseases.
Hyaluronic Acid - acts as a joint lubricant, which decreases joint pain.
As noted above, this product contains shellfish.
Daily Serving
The daily serving size for Arthri-D3 is two capsules, twice a day. Ideally the first two should be taken with your morning meal and the second pair should be taken with lunch or dinner.
The quantities of each ingredient fall below what is typically recommended. However, we do not believe this is cause for concern. Recommended serving amounts for individual ingredients do not consider supplements that use multiple ingredients for treating arthritis.
The manufacturer recommends that this product be taken for a minimum of three months.
The Cost
Arthri-D3 can be purchased through the manufacturer's website. A 120-capsule bottle costs $109.99. Those who sign up for monthly replenishment will receive a discounted price but the actual cost was not clear as two prices were listed for this program. The manufacturer also offers a buy 2, get 1 free deal for $230.98. This package deal also has a monthly replenishment option, but it is not discounted.
This product can be found on websites such as Amazon; however, at the time of writing it was listed as out-of-stock.
Guarantee
The manufacturer offers a 30-day or a 90-day back guarantee. Customers who purchase a 30-day supply receive the 30-day guarantee. Those who purchase a 90-day supply receive the 90-day guarantee. Customers must return all products - both opened and unopened - in order to receive a refund.
Amazon customer reviews are discouraging with one of the highest negative-ratings percentage we've seen for health supplements, from over 90 feedback posts at the time of this review.
Our Review Summary Of Arthri-D3
Arthri-D3, although containing all-natural ingredients - which may reduce the chances of side effects - is not a product we can recommend. Although it does offer a money-back guarantee, we cannot ignore the notably high percentage of negative customer reviews. In addition Arthri-D3 is a very expensive supplement, costing an average of $100 a month and requires several months of consistent use before users may see results.
Well researched reviews, from the experts at Research & You.