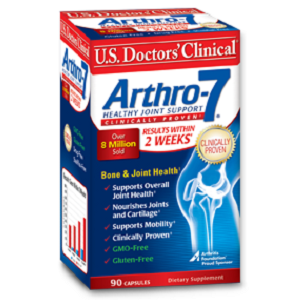 Arthro-7 - Does It Work?-Review
What is Arthro-7?
It is a supplement that is made of natural ingredients to help joints to be more flexible, comfortable, and mobile. The product is GMO and gluten free. Arthro-7 is prepared in a GMP and FDA certified facility to ensure it attains high-quality standards that are safe for human consumption. It has also been clinically proven to treat people with arthritis. For more information, read our Arthro-7 review below.
Ingredients & How It Works
Collagen - It has inherent properties giving it the ability to cure wounds. It is the primary element of this product and helps in improving motion. It also nourishes and supports the joints making them stronger and healthier.
MSM (Methylsulfonylmethane) - It is responsible for healthy bones.
Vitamin C - This is an important vitamin that is essential for the formation of collagen. Besides that, it is an important antioxidant that supports your overall health.
CMO (Cetyl Myristoleate) - It is a fatty acid that is a joint lubricator that helps nourish the tendons, muscles, and joints as well.
Bromelain - It is extracted from pineapple and plays a dominant role in decreasing pain and speeding up healing time.
Lipase - Lipase is a digestive enzyme that assists the body to absorb compounds such as CMO.
Turmeric - It is also referred to as Curcuma longa, and it takes part in reducing inflammation and supporting general joint health.
Gelatin - It contains collagen and helps to strengthen bones.
Silicon dioxide - It is used to prevent the elements of the product from sticking together.
Magnesium Stearate - It is included as an emulsifier.
Titanium Dioxide - It has oxidative properties and it is used to add color to tablets.
We discovered in our study that users may need to take several packets to start seeing results in a period close to a month.
Daily Serving
Arthro-7 is for adults only. The manufacturer advises taking two tablets twice a day for two weeks. Users can reduce the dosage to once a day after seeing improved results.
The Cost
One packet of Arthro-7 which is a one-month supply, costs for $49.95 plus $7.95 for shipping and handling. The manufacturer offers a 3-month supply special offer for $99.90 at $33.30 for each packet.
Guarantee
Arthro-7 has a 60-day money back guarantee within which users can determine the results of the product and choose whether to ask for a refund and or continue its use. The money back guarantee allows new users to try it for a trial period risk-free.
Our Review Summary Of Arthro-7
Our analysis concludes that Arthro-7 is a useful product for the general health of joints. The product is clinically proven to cure wounds and is GMO and gluten free, making it safe to use. The fact that it is made in an FDA-approved facility that adheres to current Good Manufacturing Practices and Guidelines raises customer assurance. However, for best results, you will have to take several packets to start to feeling results, which might take a while. The positive customer feedback on the website is further confirmation of the effectiveness of the product. Though there are no side effects recorded, the warning to discontinue use in case of adverse reactions raises concern.
Well researched reviews, from the experts at Research & You.