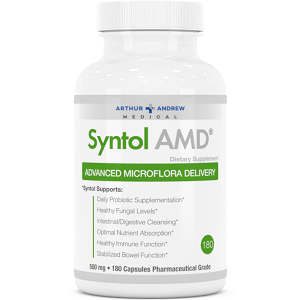 Arthur Andrew Medical Syntol AMD - Does It Work?-Review
What Is Arthur Andrew Medical Syntol AMD?
The following review will inform you of all the real facts about Syntol AMD. This product claims that it is a yeast cleanse that will also provide you with balanced intestinal flora. The manufacturer of this product claims that it can treat yeast infections and will also assist with symptoms such as fatigue and irritability, bloating, constipation, diarrhea and others relative to an untreated yeast infection.
Ingredients & How It Works
Spore Germination Probiotic Blend -  13,6 Billion CFU's
B.subtilis
L.helveticus
L.acidophilus
L.rhamnosus
L.plantarum
L.lactis
B.bifidum
Syntol Digestive Yeast Cleanse - 1240 mg
Cellulase
Glucoamylase
Hemicellulase
Amylase
Protease
Serrapeptase
Unfortunately, all the ingredients used are in unknown dosages. The probiotic blend used is formulated with the above live bacteria that will assist to restore the correct and healthy flora balance of good and bad bacteria back to your digestive tract. The Syntol digestive yeast cleanse consists of cellulase, Glucoamylase which is a needed digestive enzyme and helps you to absorb crucial nutrients, hemicellulase which assists the body to manage functions such as blood sugar and cholesterol, amylase and protease which are also a digestive enzyme, serrapeptase which assists with reducing swelling as an active anti-inflammatory.
Daily Serving
The manufacturer suggests that you should use this product on an empty stomach along with 8 oz of water and that you should start with one or two capsules daily and increase by one to two capsules per day until you have reached your required dosage. They also suggest a guideline instruction set stating that for maintenance you should take two to four capsules daily, for the increased support you should take six capsules daily and for the therapeutic use you should take nine to twelve capsules daily. This does seem like a somewhat inconvenient product that requires to be used too often which is unfortunate.
The Cost
This product is available to be purchased online directly through the manufacturer's website and it will cost you $39.99 for 90 capsules, $69.99 for 180 capsules or $129.99 for 360 capsules.
Guarantee
The manufacturer does not have a money back guarantee in place for opened products which shows a great lack of confidence in the general effect that this product may have to offer which is both unfortunate and greatly concerning.
Our Review Summary Of Arthur Andrew Medical Syntol AMD
This product does have some good ingredients that might be beneficial and it also has discounted options which suggests that it is an ok product, however, it is still a fairly expensive option that requires to be used often and it has no money back guarantee which shows that it has more downsides than anything and you should therefore probably rather opt for a product that would prove to be more suitable for you and one that is available from trusted leading brands. 
Well researched reviews, from the experts at Research & You.