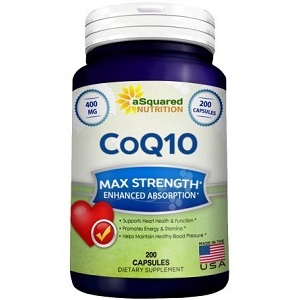 aSquared Nutrition CoQ10 - Does It Work?-Review
What is aSquared Nutrition CoQ10?
In this review of aSquared Nutrition Pure CoQ10, we look into it as a dietary supplement that is crafted to promote a strong and healthy cardiovascular system by encouraging the vitality of the heart as well as fueling cells so that may be more energized to carry out their functions. The maximum strength CoQ10 formula keeps blood pressure in check and helps maintain energy levels. This product is also said to be free from artificials, fillers, and binders and has to pass numerous tests to ensure that quality standards are upheld.
Ingredients & How It Works
Each 400 mg capsule contains:
This is a concentrated enzyme which is said to be a powerful antioxidant (protects cells from oxidation damage) and energy restorer. Our bodies produce this enzyme naturally, however, we lose healthy concentrations of Q10 in our cells as we get older and especially if we are taking medication (Statin) to lower cholesterol. Supplementing this coenzyme has benefitted many people by maintaining the health and supporting the overall function of their heart, a healthy pressure of their blood and the protection against premature aging.

Other Ingredients:
Rice Powder is actually a popular filler. This is surprising as the manufacturer has claimed that their product is pure.
Daily Serving
It is suggested that one capsule is taken per day with meals or as instructed by a health practitioner.
The Cost
One may order the product online or by phone. A container of CoQ10 (which holds 200 capsules of 400 mg servings) is available for purchase at $39.99. There are discounts available should you buy bulk. Shipping is said to be free and tracking numbers are emailed to the buyer. Subscriptions offer up to 50% off your order.
Guarantee
There is a 30-day money back guarantee if you return your product unused and unopened and in its original packaging.
Our Review Summary Of aSquared Nutrition CoQ10
We liked that aSquared Nutrition CoQ10 receives some positive customer reviews and that it undergoes rigorous testing to ensure that the product delivers all it promises to. However, we feel that the manufacturer has been dishonest in saying that the product is pure as it contains Rice Powder which is a filler. Our attention was also drawn to the ingredient which was used to house the contents of the capsule. We feel that the product could cater for vegans and vegetarians by simply swapping the gelatin out for a vegetable capsule. Furthermore, a 30-day money back guarantee is an exceptionally short period for the customer to assess the product. Besides, so many other manufacturers allow portions of the unused product to be returned, and offer 100% money back guarantee, is aSquared Nutrition lacking the confidence in their product that they are not permitting it to be assessed by the consumer on fair grounds? We would suggest that alternative CoQ10 supplements be looked into.
Well researched reviews, from the experts at Research & You.