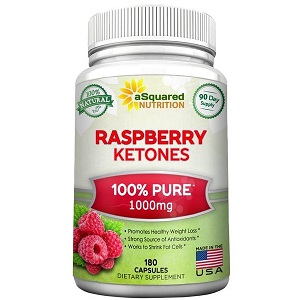 aSquared Nutrition Pure Raspberry Ketones - Does It Work?-Review
What is aSquared Nutrition Pure Raspberry Ketones?
This review is going to take a closer look at aSquared Nutrition Pure Raspberry Ketones to learn more about how it works and to determine if it's a worthwhile supplement. This Raspberry Ketone supplement is a dietary supplement that is designed to help you lose weight. Raspberry Ketones are believed to contain properties that can support weight loss. The manufacturer claims that their product promotes healthy weight loss, works to shrink fat cells, supports a healthy metabolism and is a strong source of antioxidants.
Ingredients & How It Works
The only active key ingredient in this supplement is Raspberry Ketones. One serving contains 1000 mg and is enclosed in a vegetarian capsule. Ketones are the element in red raspberries that give them their red color. Despite its name and the manufacturer's claim, this supplement is not derived from raspberries, rather, it is synthetically made because one kg of natural compounds would cost around $20,000 and is equivalent to 90 pounds of raspberries. Raspberry Ketones are believed to aid in weight loss by increasing levels of adiponectin, which is a hormone that helps regulate your metabolism and helps your body burn fat faster. It is also believed to cause fat within cells to be broken down effectively which will help your body burn fat faster.
Daily Serving
The manufacturer recommends taking two capsules daily. They also recommend for everybody to consult with their doctor before taking this or any other dietary supplement.
The Cost
You can purchase this supplement directly from the manufacturer. One 180-capsule bottle is available for $29.99. The manufacturer offers several bulk purchasing options as follows: You can purchase a package of two bottles for $26.99 per bottle, three bottles for $23.99 per bottle or four or more bottles for $22.49 each.
Guarantee
aSquared Nutrition markets that they offer a 100% money-back guarantee but when we dug a little further we found that they only offer thirty days to get your money back and their policy is only offered for unopened and unused bottles. This means that if you purchase this supplement and it doesn't work for you or you experience adverse side effects, you may not be able to get your money-back. Thirty days is also not necessarily enough time to be able to make a determination if this product works for you.
Our Review Summary Of aSquared Nutrition Pure Raspberry Ketones
This supplement appears to be a decent tool that can potentially help you to lose weight. Every serving has a decent amount of Raspberry Ketones and this product is backed by a manufacturer's guarantee. However, the manufacturer's guarantee is weak and limited. They claim to offer a 100% money-back guarantee but they really only offer thirty days to obtain a refund on unused products. This is one of the weakest guarantees we have seen and it is disheartening to see that the manufacturer is misleading. They also claim that their supplement is 100% natural and that is misleading too because all Raspberry Ketones are synthetically made. You are better off purchasing a supplement that has honest, straightforward information and one that is backed by a strong manufacturer's guarantee.
Well researched reviews, from the experts at Research & You.