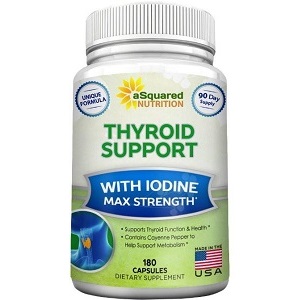 aSquared Nutrition Thyroid Support - Does It Work?-Review
What is aSquared Nutrition Thyroid Support?
This Thyroid Support review examines this product which is manufactured by aSquared Nutrition. The product under investigation is claimed to help support a healthy thyroid function and hormone levels. In addition, this product is said to enhance energy levels as well as the metabolic rate, assisting with weight loss. Furthermore, this product is claimed to enhance focus and concentration.
Ingredients & How It Works
Two (2) capsules provide:
Vitamin B12 (100 mcg)
Iodine (kelp) (150 mcg)
Magnesium (oxide) (200 mg)
Zinc (oxide) (8 mg)
Selenium (amino acid chelate) (200 mcg)
Copper (oxide) (200 mcg)
Manganese (amino acid chelate) (50 mcg)
L-tyrosine (300 mg)
Schizandra powder (fruit) (240 mg)
Ashwagandha root powder (200 mg)
Bladderwrack powder (thallus) (50 mg)
Cayenne pepper powder (fruit) (30 mg)
Kelp (38 mg)
These ingredients work to address the root causes of thyroid conditions and associated symptoms, for example, brittle hair, skin problems, and weight gain. Some of these ingredients are clinically proven to support the thyroid and its function.
Daily Serving
The manufacturer suggests that two (2) capsules be taken each day with meals. The manufacturer also suggestions that the dosage instructions of a health-care provider or doctor may be followed.
The Cost
This product is available in a 90-capsule bottle, available on the company website at various prices according to the number of bottles purchased. The cost of one bottle online is $24.99. The buyer receives a 10% discount on 2 bottles, thus $22.49 per bottle. The buyer receives a discount of 15% discount on 3 bottles, thus $21.24 per bottle. If four or more bottles are bought, the buyer can receive a 20% discount, making each bottle $19.99. All orders will receive free shipping.
Guarantee
This product is backed by the manufacturer's 100% satisfaction guarantee. Buyers can return the items within 30 days to receive their money back. However, the company's return policy states that all returned items should be unused, returned within the set time, and returned with proof of purchase. The goods will first be inspected before the company decides whether to refund a buyer. The return policy is therefore very subjective. However, there is a clause in the return policy that buyers should be aware of: only regular priced items will receive a refund: no refund is applied to a sale item. However, all bulk purchase packages are sale items, as they are discounted. The single bottle itself is a special sale offer, therefore in principle, none of these bottles is protected by this company's 100% satisfaction guarantee.
Our Review Summary Of Thyroid Support
There are certain positive aspects of this product, which makes this product attractive. These are the money-back guarantee from the manufacturer. Furthermore, the attractive package deals with discounts can make this product economical. However, against these good aspects, there are also some negatives. For instance, the package deals and the return policy lead to the product not being protected by the manufacturer's guarantee. In addition, the company does not allow buyers to test the products before returning them – this makes the product risky for consumers to buy.
Well researched reviews, from the experts at Research & You.