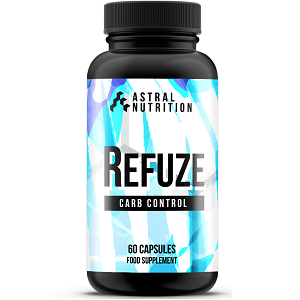 Astral Nutrition Refuze Carb Control - Does It Work?-Review
What Is Astral Nutrition Refuze Carb Control?
This review is for a dietary supplement called Refuze Carb Control from Astral Nutrition. According to the manufacturer, his dietary supplement is a great option for people who want to burn fat when following a low fat or low-carb diet. This dietary supplement is a carb blocker that helps to prevent carbohydrates from being stored as fat in your body. The manufacturer of this product claim that the active ingredient in this formula, white bean extract, acts as an amylase inhibitor. It works by blocking the amylase digestive enzyme in your body that converts carbs into sugars.
Ingredients & How It Works
White Kidney Bean Extract
Vitamin C
Guarana
Natural Caffeine
Chromium
Brown Rice Flour
Gelatin
Magnesium Stearate
Silicon Dioxide
At first, when we examined the ingredients included in this formula we found that it could be an effective dietary supplement. However, we were concerned about a variety of things that came up during our research. There are more additives, preservatives, fillers, and binders included in this formula than we would expect in a product like this. These additional ingredients could make this product unsuitable for individuals who suffer from allergies.
Daily Serving
The manufacturers of this dietary supplement recommend that you take one capsule twenty to twenty-five minutes before eating a meal that is high in carbohydrates. Additionally, they recommend that you should take care not to take more than six capsules in a 24-hour period. We would also advise individuals who pregnant, nursing or suffer from any pre-existing conditions to consult their doctor before taking this dietary supplement.
The Cost
This product is available on the manufacturer's online store for $31.83 for a bottle, which contains 120 capsules. If you adhered to the dosage recommended by the manufacturer, one bottle should last you about two months. Unfortunately, there are no discounts available for this product and the manufacturer does not offer any special offers for bulk purchases. However, they do provide free shipping.
Guarantee
The manufacturer of this dietary supplement offers a full money back guarantee to anyone who makes a purchase on their online store. However, they do not provide any additional information about this guarantee. Therefore, we are not sure if this guarantee is only valid for a limited period.
Our Review Summary of Refuze Carb Control
When we completed this review, we concluded that this product could be an effective solution for individuals who want to lose weight but still be able to indulge in eating carbohydrates. We were rather impressed by the money back guarantee provided by the manufacturer. Additionally, there was a wide variety of positive reviews for this product, which we found encouraging. However, there are a few issues with this dietary supplement that cannot be overlooked. This product contains a variety of additional ingredients that are not necessary. Additionally, this product is not suitable for individuals who follow a strict vegan or vegetarian diet. Finally, we were concerned about the fact that we could hardly find any inormation regarding the guarantee you recieve when you buy this product.
Well researched reviews, from the experts at Research & You.