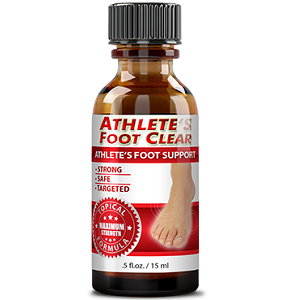 Athlete's Foot Clear - Does it Work?-Review
What is Athlete's Foot Clear?
Athletes foot is a rash on the skin of the foot, and is the most commonly found fungal skin infection. It is also highly contagious and one of the easiest types of fungus to contract. Athlete's foot is commonly found in showers, locker room floors, and around swimming pools. If you are suffering from athletes foot, you may be experiencing itching and burning. Needless to say, having athletes foot is incredibly unpleasant. The following review is for a product called Athlete's Foot Clear. Made using only the highest ingredients, Athlete's Foot Clear is certain to get rid of your athlete's foot.
Ingredients & How it Works?
The following ingredients were hand picked after thorough research
Undecylenic Acid
Sweet almond oil
Clove bud oil
Vitamin E
Jojoba oil
Lemongrass oil
Menthol
Camphor oil
Flaxseed oil
Chia oil
A few notes on some of the ingredients & how they work:
All of the ingredients work together to get rid of your athlete's foot, while soothing your skin from the itching and burning. Menthol, aloe vera, camphor oil, and tea tree oil are all agents that help cool and soothe the skin from itching and burning.
In addition, vitamin E hydrates the skin and prevents inflammation. Flaxseed oil is used to calm skin irritations and to alleviate the roughness of the skin.
Propolis, lavender oil, and sweet almond oil all help to fight fungal infections.
Daily Serving
Suggested use is that you apply the liquid, using the brush provided, three to four times a day until the athlete's foot has gone away.
The Cost
There are many different packages offered, all conveniently available for purchase online. The most basic package is the "sampler package" which comes with one bottle and costs $49.95. The "top selling package" is offering a limited time "buy 3, get 3 free" special. Each one of the three bottles costs $23.30 each, $139.80 in total. The other three are free!
Guarantee
They are so confident that this product will work, that they offer a 60-day money back guarantee. If you are not satisfied with their product, you can return any bottles, opened or closed, for a full refund. Customers have only the best things to say about Athlete's Foot Clear. A lot of customers have expressed that they've tried many different remedies before actually finding one that worked. Not only did customers report that their itchiness and burning went down significantly, but with time, their athlete's foot was completely gone.
Our Review Summary of Athlete's Foot Clear
After thorough research, we have found that Athlete's Foot Clear is the best product on the market. Customers feel the same way! One customer suffered from athlete's foot for years before finding Athlete's Foot Clear. He reported that, only after a month, his feet were almost back to normal. You want something that is guaranteed to work because no one wants to live with such discomfort. Athlete's Foot Clear was carefully designed in an FDA registered laboratory, using the best ingredients. We highly suggest using Athlete's Foot Clear to eradicate nasty fungal infections!
Well researched reviews, from the experts at Research & You.