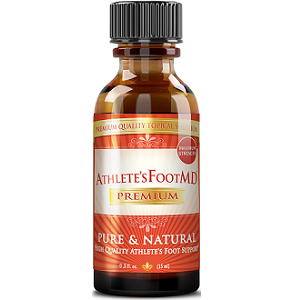 Athlete's Foot MD Premium - Does It Work?-Review
What is Athlete's Foot MD?
Athlete's Foot MD is an all natural product that is designed to get rid of an athlete's foot infection. Athlete's foot is caused by a fungus that is growing on the skin of the foot. This infection causes damage and inflammation. This product contains ingredients directed against both the fungus and the inflammation. This is quite a helpful feature as many products for treating athlete's foot only target the fungus.
Ingredients & How It Works
Undecylenic Acid
Manuka Oil
Tea Tree Oil
Sweet Almond Oil
Aloe Barbadensis
Clove Oil
Jojoba Oil
Black Walnut
Lemongrass Oil
Menthol
Lavender Oil
Camphor Oil
Flaxseed Oil
Chia Oil
Mineral Oil
Canola Oil
Tocopheryl Acetate
Some of the ingredients have potent antifungal properties like undecylenic acid and most of the plant oils. The oils also help to nourish the skin and keep it hydrated while it is healing from the infection. Even more is that they have soothing properties as well to rid the area of its itchiness. The aloe extract also has direct anti-inflammatory properties.
Daily Serving
This product is only for use externally. It can be applied to the affected area up to three times a day. Athlete's Foot MD has an application brush to assist the user to apply it.  It should not be applied near the eyes or areas of sensitive skin.
The Cost
One bottle of Athlete's Foot MD, which contains 0.5 fl oz of the product, is available for purchase online for the price of $48. There are discounts available for customers who want to buy multiple bottles. Three bottles can be bought together for $91 (a saving of $17.66 per bottle), four bottles can be bought together for $112 (a saving of $20 per bottle) and six bottles can be bought together for $138 (a saving of $22 per bottle).
Guarantee
The customer has up to 90 days to try the product, and if they are not satisfied with their results, they may return the empty container (and the other unopened bottles for bulk orders) for a complete refund. Many of the customers who tried this product commented that it works really well for them in the customer feedback reviews.
Our Review Summary Of Athlete's Foot MD
This product contains a variety of ingredients which have a number of similar actions. The resulting effect is that the functions that they perform are enhanced by each other. Along with the high amounts of all the ingredients in this product, this feature makes the product quite effective.
Such an effective product is also offered at a very reasonable price. The price is even lower when you buy multiple supplies, which makes the long term use of the product much cheaper. On top of all of this, the guarantee is great and it really protects the customer. To see more products from this manufacturer you can visit their website here.
Well researched reviews, from the experts at Research & You.