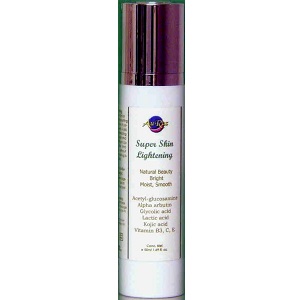 AuRas Super Skin-lightening Gel - Does It Work?-Review
What is Super Skin-lightening Gel?
The following review examines the product Super Skin-lightening Gel manufactured by the company AuRas. This product is claimed to improve uneven skin tone, enhancing the complexion. However, besides this, the product is also said to be useful in reducing the visual appearance of wrinkles and fine lines. Continue reading this review to learn more about this skin care product. Discover the facts: the ingredients and how they work, the price of this product, if there is a possible manufacturer's guarantee or not and how to use this product.
Ingredients & How It Works
Alpha-arbutin
Ascorbic acid
Kojic acid
Vitamin E
Aloe vera gel
Glycolic acid (AHA)
Lactic acid
Witch hazel
Kojic acid is used to rectify uneven pigment. Mulberry extract is a strong astringent. Even though the manufacturer clearly states that the above-mentioned ingredients are active, no information is given on the concentration of each of these active ingredients. Effective products contain at least 10% active ingredients. This information is unknown for this product. More problematic is that there are some key ingredients that are not included, such as mallow, peppermint oil, gypsyweed, or alpenrose, to name a few. Such ingredients are useful for hydrating, lightening, and keeping the skin healthy.
Instructions
User instructions are clear and detailed. The product should be applied at night, to a face washed and dried. The product is presented in an airtight pump bottle which makes it easier to apply. Some drops should be placed on the fingertips before massaging them onto the skin from the center, moving outwards. This gel should not be rubbed into the skin; eye contact should be avoided. In addition, the manufacturer states that oily skin will take longer to show results.
The Cost
This product is available online at $38.95. There are various sizes of bottle. The company offers no discounts nor any bulk offers that would lead to savings or reward the consumer.
Guarantee
Notwithstanding our research efforts, no guarantee was found to be offered by the manufacturer. This is a concern: it may imply that the product is not as effective as the manufacturer claims it to be. There are a few reviews on the website; however, fewer than six, which is not an adequate benchmark on which to gauge the value of this product.
Our Review Summary Of Super Skin-lightening Gel
This product appears useful in that it offers clear instructions: the user then has a better chance of reaching optimal results. In theory, the ingredients are good. However, there are certain key ingredients absent from the formula. There is no firm guarantee, nor any package deals or discounts that would save money for the consumer. On the other hand, there are many other similar products on the market at present. These competitive products offer better package deals with discounts, firm guarantees, many positive customer reviews and solid formulas packed with patented and clinically proven ingredients. These aspects are what count and not just the claims of a manufacturer, and this is what potential consumers should be aware of.
Well researched reviews, from the experts at Research & You.