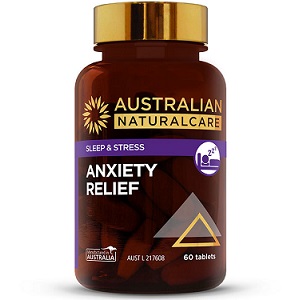 Australian NaturalCare Anxiety Relief - Does It Work?-Review
What is Australian NaturalCare Anxiety Relief?
Australian NaturalCare Anxiety Relief is an all natural supplement that includes ingredients directed against the chemical causes of anxiety in the body. Anxiety is caused by an increased release of certain chemicals in the brain after consistent stress. Using this supplement is supposed to reverse these effects. This review has been conducted to determine if this product is effective at reducing anxiety or if there are better products available.
Ingredients & How It Works
Ashwagandha
Rhodiola rosea
Salidroside
Rosavin
Siberian ginseng
Ashwagandha is an adaptogen plant which means it contains various molecules that reduce stress responses in the body. When the body is stressed it releases a certain chemical into the brain and bloodstream and ashwagandha has been shown to reduce some of these. Rhodiola rosea has similar effects. Salidroside and rosavin are compounds extracted from Rhodiola rosea so it is likely they were included to enhance its effects. Just as a note of caution to customers, this plant has been added to the poisonous plant database of the FDA.
Siberian ginseng is much safer, and it contains compounds that have antidepressant properties. We are a little bit concerned with this manufacturer's ingredient list. It contains a few unusual ingredients and is actually missing vitamins and minerals that could contribute to a reduction in anxiety. The research on some of these plant extracts is also bit weaker than that of purified molecules. There is absolutely nothing wrong with using plant extracts, but they should be supported by well researched molecules like 5-HTP or theanine.
Daily Serving
Customers must take one capsule of Australian NaturalCare Anxiety Relief after breakfast and one capsule after lunch. The dosages of each of the active ingredients are quite high. This supplement may not have any effect on improving sleep as it is not taken in the evening.
The Cost
60 capsules are available for purchase online from the manufacturer's website for $14.66. This price does not include shipping or taxes. The manufacturer mentions that the product is usually $22 and currently on special. They also running a promotion where there is free delivery for all orders over $73.
Guarantee
There is a guarantee on this product which is valid for 60 days from the day it is delivered to the customer. This guarantee does specifically cover products which have been opened or even products that are still sealed.
Our Review Summary Of Australian NaturalCare Anxiety Relief
This product is backed up with quite a good guarantee and it is offered at a very reasonable price. We are just not convinced that this product will be effective at all though. The ingredients listed do not have very strong evidence of working well to reduce anxiety without supporting amino acids. This product is also unlikely to have any influence on anxious sleep loss. We thoroughly recommend that customers look at products with much better researched ingredient combinations than this one. 
Well researched reviews, from the experts at Research & You.