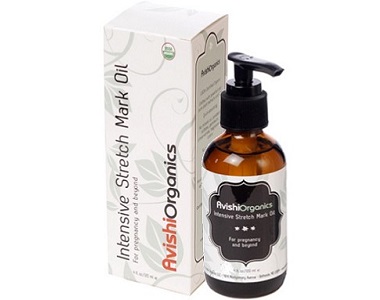 Avishi Organics Intensive Stretch Mark Oil - Does It Work?-Review
What is Avishi Organics Intensive Stretch Mark Oil?
The below review examines Avishi Organics Intensive Stretch Mark Oil to bring you all the real facts. The manufacturer of this product claims that it can effectively reduce the appearance of existing stretch marks and scars while also claiming to be beneficial for prevention and additionally, suggesting that it can provide noticeable results after 8-12 weeks of use.
Ingredients & How it Works
Rosehip Seed Oil
Helichrysum Italicum
Sea Buckthorn Oil
Tamanu Oil
Borage Seed Oil
Macadamia Nut Oil
Rosehip Seed Oil contains a beneficial source of Vitamin C and can be used to help improve stretch marks. Helichrysum Italicum may help regenerate skin tissue although, research advises that there is insufficient evidence to suggest how and if this ingredient works. Sea Buckthorn Oil may assist with skin conditions such as eczema, sunburn and dry skin. Tamanu Oil can also be used to help treat a list of skin conditions including rashes, burns, blemishes and acne. Borage Seed Oil is beneficial as an anti-inflammatory and may also work as an antioxidant. Macadamia Nut Oil may assist with skin health as it contains a rich source of fatty acids.
Daily Serving
The manufacturer recommends that you should apply this product twice a day for at least three months in order to achieve the maximum claimed results and it is further advised that you should massage the oil directly onto the required areas in a circular motion until it has completely absorbed into the skin. It is cautioned to avoid using this product on broken skin and that if skin irritation occurs, you should discontinue use and consult a healthcare practitioner. Our research suggests that there may be allergen concerns based on the ingredients used and it may also not be a suitable option for those with a sensitive skin which is disappointing.
The Cost
According to the manufacturer's website, one bottle of Avishi Organics Intensive Stretch Mark Oil contains 100 ml and purchasing it online will cost you $38.50. Unfortunately, there are no suggested discount offers for bulk purchases which is greatly disappointing because this is a rather expensive product that may not even last a full month.
Guarantee
After a thorough inspection of the manufacturer's website, we found no money back guarantee advertised or offered which is concerning as this indicates that the manufacturer is not completely confident in their products and this questions the effective results and the quality standards. There is a return policy provided which states that you may return damaged or incorrect products for a refund within 30 days of your purchase considering they are sealed and unused.
Our Review Summary Of Avishi Organics Intensive Stretch Mark Oil
Initially, Avishi Organics Intensive Stretch Mark Oil may seem to be an ok product because it does use some good ingredients and it seems to require minimum applications. However, when taking into account that this is a rather expensive product that has no manufacturer's guarantee to ensure you a risk-free purchase, you could end up wasting your money. Unfortunately, most of our research was unable to yield any convincing evidence to suggest that this product is effective and therefore, we recommend considering other more suitable similar products that are available from leading brands.
Well researched reviews, from the experts at Research & You.