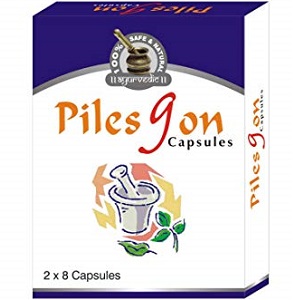 Ayurved Research Foundation Pilesgon - Does It Work?-Review
What is Ayurved Research Foundation Pilesgon?
Pilesgon is a 100% herbal combination of ingredients encapsulated to cure dry or bleeding hemorrhoids. They claim that the properties of the ingredients tone and strengthen the elasticity of the vascular muscles and veins thereby making the passing of stools more comfortable. Pilesgon claims that it improves digestion and reduces constipation which can cause piles.  Pilesgon is formulated to relieve pain, burning, and discomfort during bowel movements. Pilesgon claims to shrink and repair the swollen tissue, relieve and stop bleeding and eradicate pain and burning. It is said to work internally and externally in treating piles, as well as preventing recurrence. Pilesgon is useful in helping treat inflammation and infections. Our review of Pilesgon by Ayurved Research Foundation follows:
Ingredients & How It Works
Mesua Ferrea (Nagkesar)
Sapindus Mukorossi (Ritha)
Acacia Catechu (Katha)
Extractum Bryophyllum Calycinum (Hemsagar)
Terminalia Chebula (Haritaki)
Berberis (Rasaunt)
Vernonia Anthelmintica (Kalijiri)
Eupatorium Ayapana
Wrightia Tinctoria (Indrajau)
Daemonorops Draco Blume (Khum Shosha)
Sodii Biboras (Shudh Takan)
A completely natural mixture of flowers, herbs, fruit, seeds, and tree extracts generally from the Southeastern Asian countries. These have been combined to provide aid for digestive disorders, act as a laxative and anti-inflammatory, relief and soothing of itching and pain relief, as well as an astringent.
It contains no preservatives, chemicals, unnatural colors, binders or fillers.
Daily Serving
1 - 2 Capsules taken twice daily.  It is recommended that the capsules are taken with water.
Consistent use over two to three months will provide permanent hemorrhoid relief.
The Cost
If you purchase off the Ayurved Research Foundation website:
A pack of 32 capsules will cost $22. They offer discounts of up to $10 per quantity ordered. A pack of 80 capsules will cost $45.
Guarantee
They are ISO and GMP approved, but we could not find any reference to money back guarantees or customer dissatisfaction policies.  This is concerning as consumers may lose well-earned money if the product turns out to be ineffective for them.
There are customer testimonials on their website, but none on any particular product.
Our Review Summary Of Ayurved Research Foundation Pilesgon
Having a totally natural product is reassuring. Because it is completely herbal, there are no side effects and therefore it can be taken over long periods of time.
Ayurved maintains strict quality controls in the manufacturing processes and their products are GMP certified as having consistent quality.
We approve of their suggestions of a fiber-rich diet, liquids, and exercise to act as natural remedies with their treatment. This aligns with their name "Ayurveda" of holistic wellness as well as basic health logic.
As much as this is a safe and natural hemorrhoid treatment, it appears to be expensive for so few capsules that need to be taken for such a long period of time. Unlike other leading brands, it does not offer quick relief. It is disappointing that there is no external cream to apply to the affected area to help with the burning, itching, and inflammation. We would have liked to have seen reviews from customers having used Pilesgon.  It may be in your best interest to look for an alternative brand.
Well researched reviews, from the experts at Research & You.