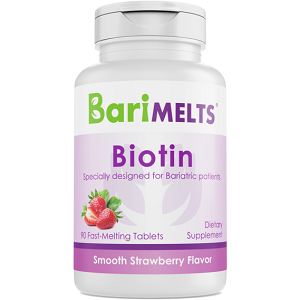 Barimelts Biotin - Does It Work?-Review
What is Barimelts Biotin?
This product, Barimelts Biotin, claims to assist its users by increasing the growth of their hair and nails. This product was specifically designed for people who have had gastric bypass surgery. The capsules are flavored with a strawberry flavor so that they are easier and more pleasant to take. This review determines the overall quality of the product to help customers decide if this is the biotin product for them.
Ingredients & How It Works
This product contains only biotin as its active ingredient, with some natural flavoring as an inactive ingredient. Biotin actually has various functions in the human body and is part of a number of biochemical pathways.
One of the most well researched functions in terms of this molecule is its contribution to strengthening the protein keratin. Keratin is a very strong protein that provides the toughness of nails skin and hair. If a person does not get enough biotin, their skin begins to crack and they begin to suffer from hair loss and brittle nails. Taking extra biotin can help the boost the strength of keratin in the body and restore any deficiency in the relevant issues.
Daily Serving
There is no need for water when taking Barimelts Biotin. Instead, customers simply dissolve the tablet in their mouth. Customers can take one tablet per day unless directed differently by a healthcare practitioner. Each tablet gives the person 5000 micrograms of biotin which is higher than the recommended daily intake but still lower than some other products which offer up to 10000 micrograms.
The Cost
Customers can purchase for $14.99 online which gives them 90 tablets. This price does not include taxes or the price of delivery. If customers would like to sign up to the rewards programs they can receive discounts which vary from time to time.
Guarantee
There is a refund option available for customers if they return the product within 30 days. The manufacturer mentions that they accept products which are still sealed but doesn't make any mention of products which have already been opened.
This places the customer at a certain degree of risk because they cannot be completely sure that they are protected from the possibility of the product not working for them. The guarantee is also quite limited in terms of time and does not allow the customer to test the product sufficiently.
Our Review Summary Of Barimelts Biotin
This product contains the right sort of ingredients to fulfill the manufacturer's claims. The problem with this product is that it gives a half dosage of the maximum available. This means that if customers need a higher dosage of biotin they will have to take a double dosage of this product which will use it up twice as fast.
Otherwise, the price of the product is good but the guarantee is unclear and customers might find themselves feeling frustrated and cheated if their return is invalidated, for reasons not covered in the manufacturer's description. Customers might find products with a clearer guarantee to be more trustworthy. 
Well researched reviews, from the experts at Research & You.