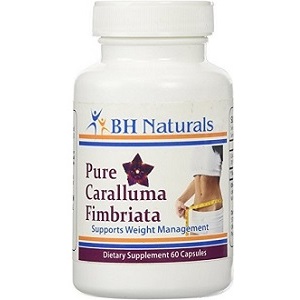 Bathhouse Naturals Pure Caralluma Fimbriata Extract - Does It Work?-Review
What is Bathhouse Naturals Pure Caralluma Fimbriata Extract?
Bathhouse Naturals Pure Caralluma Fimbriata Extract is a safe weight-loss supplement that claims to reduce appetite, increase energy, support a healthy metabolism, and promote lean muscle gains. In this review, we will assess these claims by examining the product ingredients as well as the support provided by the manufacturer.
Ingredients & How It Works
Caralluma Fimbriata has been used for years as an appetite suppressant, antioxidant, anti-inflammatory, and immune system enhancer. It is able to reduce the appetite by repressing the production of the hunger hormone - Ghrelin - in the hypothalamus. This prevents you from overindulging when eating and taking part in unnecessary snacking. This product is produced under strict GMP guidelines and made with no fillers or binders.
Daily Serving
Take 1 to 2 capsules daily on an empty stomach - 30 to 60 minutes before a meal. This would equate to 800mg of Caralluma Extract, which is lower than other competing products on the market per serving. Results are subject to individual use and may need to be tested, but it is cautioned to not exceed 6 capsules per day. This product may affect blood sugar and should not be taken by anyone under the age of 18 or those who have a pre-existing medical condition. There have been some noted side effects when using this type of product; namely gastro-intestinal issues, stomach pain, and constipation.
The Cost
Customers can purchase a bottle of Pure Caralluma Fimbriata Extract from the manufacturer's website for a discounted price of $14,95 (usually $18,95) - saving you $4,00. The bottle comes with 30 capsules per pack, which would not last the month if taken according to the manufacturer's directions. There are package deals available from the website - with 2 bottles for $27,90; 3 bottles for $40,85; and 5 bottles for $59,80. While these package deals may offer some value, the manufacturer recommends up to 6 capsules a day, so this product use would likely be costly to sustain in the long term.
Guarantee
There is a 30-day return policy available for all products, with the manufacturer offering returns only if one bottle in a set of bottles is opened (with the other bottles remaining factory sealed). It is not clear if used or tested products qualify for a refund. There are a variety of customer reviews on third-party sites that state that this product was not effective and considered it a waste of money.
Our Review Summary Of Bathhouse Naturals Pure Caralluma Fimbriata Extract
Pure Caralluma Fimbriata Extract is known to have positive effects on weight-loss, reducing appetite and promoting metabolic rate. Bathhouse Naturals version of this supplement does satisfy GMP guidelines, however, there have been a variety of customer reviews that claimed this product was ineffective and viewed it as a waste of money. The manufacturer, although offering a returns policy, is unclear about the extent of the policy for used or tested products. Since there are more customer and manufacturer supported products available on the market, we do not recommend this particular product for purchase.
Well researched reviews, from the experts at Research & You.