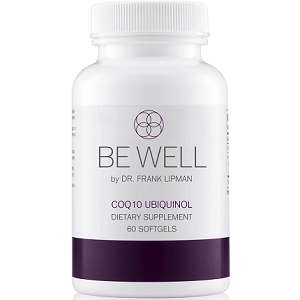 Be Well COQ10 Ubiquinol - Does It Work?-Review
What is Be Well COQ10 Ubiquinol?
The following is our review of Be Well COQ10 Ubiquinol. It claims to be able to ignite cellular energy production, boost stamina and vitality, support cardiovascular health, promote active brain functioning, healthy aging, and vitality. It also should be able to strengthen immunity and replenish serum levels when taking statin drugs. Continue reading for our full review.
Ingredients & How It Works
This product's only active ingredient is Ubiquinol. Each serving has 100 mg of it. It is an extremely powerful antioxidant that offers something for everyone. It can help with ant-aging and increase energy levels. It also can even improve your cardiovascular and cellular health. As people age, the ability to turn CoQ10 into ubiquinol diminishes. This can cause more damage from free radicals. Other ingredients include medium chain triglycerides, gelatin, glycerin abscorbyl palmitate, purified water, beeswax, lecithin, and anatto extract. It doesn't contain any wheat, yeast, gluten, eggs, dairy, soy, artificial colors, flavors, sugars, or preservatives. It was also manufactured in a GMP certified facility.
Daily Serving
It is recommended to take 2 softgels with meals or as directed by your healthcare practitioner.
The Cost
Be Well COQ10 Ubiquinol costs $34 for 1 bottle of 60 softgels. This product will last you about a month if you take the recommended daily dose. This product is a bit more expensive than similar products on the market.
Guarantee
The manufacturers offer a 30-day satisfaction guarantee. If you are not satisfied with your purchase for any reason, you can return the unused portion of the product for a refund. You will be responsible for shipping costs and a 15% restocking fee. If you would like to request a refund, you must get a refund authorization number from customer support. You must send back all items you wish to receive a refund for, including all empty bottles. This is a pretty strong guarantee which shows the manufacturers have a lot of confidence in their products effectiveness.
Our Review Summary of Be Well COQ10 Ubiquinol
There are a couple of positive things about Be Well COQ10 Ubiquinol. Its website features a lot of positive customer reviews. Many customers have been using this product for some time now and continue to purchase it. It is also backed by a very strong guarantee, allowing you to actually try to product and still get a refund within 30 days. This shows that the manufacturers have a lot of confidence in their product's effectiveness. It also allows you, the customer to have a risk-free buying experience. There are a couple of negatives as well. This product is a bit more expensive than similar products on the market. A dose of this product will give you 100 mg of Ubiquinol, which really isn't an effective amount. The ideal amount would be 250 mg. This product also lacks bioperine, which helps promote absorption and bioavailabilty. We feel you can find a more effective product elsewhere.
Well researched reviews, from the experts at Research & You.