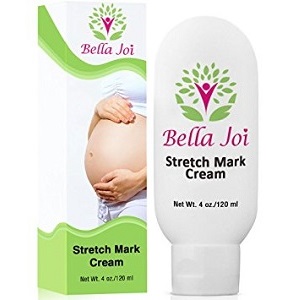 Bella Joi Beauty Stretch Mark Cream - Does It Work?-Review
What is Bella Joi Beauty Stretch Mark Cream?
Read our review below about Bella Joi Beauty Stretch Mark Cream. This cream is intended to help prevent new stretch marks from forming, and to reduce the appearance of old stretch marks. According to the manufacturer  Bella Joi Beauty Stretch Mark Cream is fragrance-free, and it absorbs quickly ensuring that it leaves your skin feeling non-sticky and grease-free. The manufacturer further claims that you can expect to see results within one week of using this product on white stretch marks.
Ingredients & How It Works
Delonized Water
Orange Oil
Disodium EDTA
Sodium Hydroxymethylglycinate
Tocopheryl Acetate
Panthenol
Potassium Sorbate
Rose Hip Seed Oil
Cocoa Butter
Jojoba Oil
Grapefruit Seed Extract
Cetyl Alcohol
Stearic Acid
Olive Oil
Shea Butter
Aloe Barbadensis Leaf Juice
Caprylic Triglyceride
Glyceryl stearate
Glycerin
Mango Butter
Sodium Hydroxide
Each of these ingredients contribute to good skin care. To mention a few, Delonized water purifies your skin; orange oil combats wrinkles and dark spots; jojoba oil acts as a skin moisturizer.
Daily Serving
Apply the cream directly to the abdomen, hips, thighs, glutes and arms. Rub into the skin using circular motion until it is absorbed or brush on in even layers with fan brush.
Cost
We could not find the cost of this product from the only retailer that sells it because it was out of stock, and the price was not shown on their website. The manufacturer only sells the product in bulks, and the price for this is also not provided. You can contact their customer service department if you wish to order in bulks.
Guarantee
You are on your own if you buy this cream because the manufacturer does not offer any form of guarantee. This means that you will lose all your money if you buy this product and do not see any results.
Our Review Summary of Bella Joi Beauty Stretch Mark Cream
Bella Joi Beauty Stretch Mark Cream contains many ingredients that could potentially be effective in supporting the health of your skin. It is smooth and easily absorbed, which is something good for a skin care product. However, we are concerned about a lot of things that we discovered through our research. 
There is only one retailer that sells this product. Moreover, when we looked on this retailer's website we discovered that Bella Joi Beauty Stretch Mark Cream was out of stock. This is a great concern for someone who is already using the product because that means that they can't look for it anywhere else. They are entirely dependent on this retailer in order for them to buy it, unless they buy it in bulks, which they can buy from the manufacturer. The price for bulks is  also not provided on the manufacturer's website. We tried looking for other sources of information such as consumer reviews, but we were unsuccessful as we could not find any. This does not only give us an idea that this cream has not been used by many people, but it makes us skeptical about its effectiveness because no one has testified that it indeed works. What makes things even worse is that the manufacturer offers no satisfaction nor money-back guarantee, which means that you are putting you life and your money at risk if you buy this product. We cannot recommend this product for stretch marks due to lack of important information and support from the manufacturer.
Well researched reviews, from the experts at Research & You.