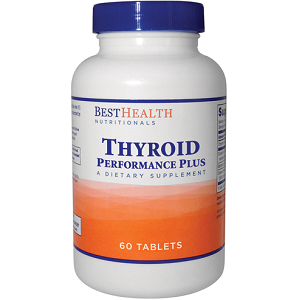 Best Health Nutritionals Thyroid Performance Plus - Does It Work?-Review
What is Best Health Nutritionals Thyroid Performance Plus?
Below is our review about the thyroid supplement called Thyroid Performance Plus. This supplement is manufactured by the company Best Health. It is this company that claims that this product offers the thyroid with the needed nutrients, as well as vitamins for additional energy. In addition, this supplement is said to enhance the metabolic rate, leading to weight loss.
Ingredients & How It Works
Two (2) capsules provide:
Iodine (50 mcg)
Zinc (15 mg)
Selenium (200 mcg)
Copper (1 mg)
L-Tyrosine (500 mg)
Ashwagandha (withania somnifera) (250 mg
Coleus forskohlii root extract (250 mg)
This supplement's formula is offered in a gelatin capsule, which includes water, silica, and microcrystalline cellulose. Iodine is significant, as a deficiency of this element will lead to thyroid complications for instance increasing the size of the gland. The components copper and zinc also assist to ensure healthy thyroid functioning. The ingredient coleus forskohlii root stimulates the formulation of T4 and T3 thyroid hormones via thyroid stimulating hormone (TSH) manufactured by the pituitary gland.
Daily Serving
The maker of this supplement product recommends taking a capsule every morning and evening. No reference is made of if these capsules are best accompanied by water or food for peak outcomes.
The Cost
The manufacturer offers this health product online on the company's own website. A 60-capsule bottle has a purchase price of $39.95, not including shipping fee. The enterprise does offer package deals. For instance, three bottles cost $119.85, in addition this fee includes free shipping. Six bottles cost $239.70, and this too includes free shipping.
Guarantee
The business declares that their satisfaction guarantee does not have a closing date: it is a lifetime promise. Disappointed consumers may, for any reason, send back the merchandise for a full reimbursement. Although whys and wherefores for a return should supply significant marketing information, the purchaser is not asked to offer such statistics, which could be used to enhance the supplement formula.
Our Review Summary Of Thyroid Performance
The supplement Thyroid Performance seems to be a useful health product. There is a concrete, risk-free guarantee from the maker of this product. As part of this guarantee, a customer may send back the merchandise at any time for any reason and still get their cash back. In addition, the enterprise provides a range of package deals which includes free shipping. On the other hand, there are certain trepidations about this supplement product. Dosage guidelines are too ambiguous for a user to use this health supplement optimally. What is more, this supplement product is offered in a gelatin capsule, making the merchandise improper for vegans or vegetarians. Furthermore, this health product lacks most of the fundamental clinically verified components for thyroid support, for example magnesium, bladderwrack, or molybdenum. The addition of such elements would have offered a total-care system for addressing the root causes of thyroid disorders, while also managing associated symptoms.
Well researched reviews, from the experts at Research & You.