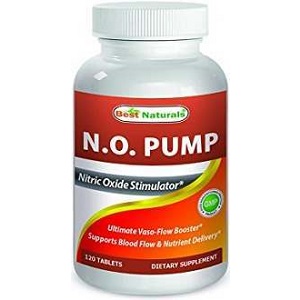 Best Naturals N.O. Pump Review - Does It Work?
What is Best Naturals N.O. Pump Review?
Nitric Oxide supplements are commonly taken by bodybuilders in order to increase blood flow containing oxygen and nutrients to muscles that need it the most during workouts. It is believed to work by relaxing the vessel walls, allowing for an increased amount of blood to pass through. This review is going to take a closer look at Best Naturals N.O. Pump. This product is a Nitric Oxide stimulator that is critical for supporting blood flow and nutrient delivery to active cells. The manufacturer claims that taking this supplement will support blood flow, nutrient delivery, lean muscle mass and strength, supports a speedy recovery from training and good health and energy. N.O. Pump will increase Nitric Oxide post-exercise when your body demands a rapid supply of amino acids and carbohydrate recovery.
Ingredients & How It Works
Arginine alpha - Ketoglutarate

Ornithine alpha - Ketoglutarate

Arginine iso - Ketocaproate
Other Ingredients: Cellulose, Xanthan, Gum, Nethyl Cellulose, Calcium Phosphate, Vegetable Stearate and Pharmaceutical Glaze.
Arginine Alpha-Ketoglutarate is linked to a higher rate of blood flow and easing cardiovascular problems. Ornithine alpha-Ketoglutarate is an ingredient that is commonly found in bodybuilding supplements because it is believed to strengthen muscles. Arginine iso - Ketocaproate also is believed to strengthen muscles and increase your overall heart health. All of the ingredients have been shown to increase levels of Nitric Oxide production.
Daily Serving
The manufacturer recommends taking three tablets two to three times daily. You should take them half an hour before meals with water.
If you are pregnant, nursing or under medical supervision, you should talk to your doctor before taking this supplement.
The Cost
You can purchase this supplement directly from the manufacturer or from third-party retailers. One 120 tablet bottle costs $14.99 on the manufacturer's website. They do not offer any bulk purchasing packages.
Guarantee
The manufacturer offers a thirty-day money-back guarantee only for unopened items. This is risky because it means that if you purchase this product and it doesn't work for you or you experience adverse side effects, you cannot get your money back.
Our Review Summary Of Best Naturals N.O. Pump
This product appears to be a decent Nitric Oxide supplement. It comes in easy to take tablets and contains three key ingredients that have been found to contain properties that boost your body's Nitric Oxide production. While different people will experience different results from taking the same supplement, the majority of the consumer feedback we saw is negative. Consumers claimed that this product does not work and is a waste of money. One bottle will not last you an entire month if you follow the manufacturer's dosage instructions. Another common complaint was that the tablets easily break and most of the bottles are full of broken tablets or break before you can bring them to your mouth. Other users reported that they experienced adverse side effects like heart palpitations. While this product is backed by a manufacturer's guarantee, the guarantee is one of the weakest we have seen. You cannot return a used bottle which means that you can't get your money back if you try this supplement and it doesn't work for you. Taking these factors into consideration, you are better off purchasing a Nitric Oxide supplement with positive consumer feedback and a strong manufacturer's guarantee.
Well researched reviews, from the experts at Research & You.