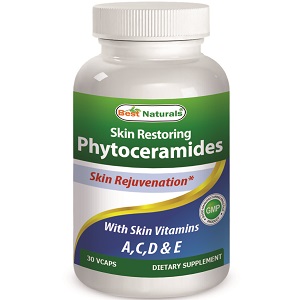 Best Naturals Skin Restoring Phytoceramides - Does It Work?-Review
What is Best Naturals Skin Restoring Phytoceramides?
This is a review of Best Naturals Skin Restoring Phytoceramides, a supplement for men and women whose goal it is to return moisture to their skin, preserving a healthy and youthful look, while protecting it from signs of aging.
Ingredients & How It Works
Primary Ingredients
Vitamin A (as retinyl acetate) - 5000 IU

Vitamin C (as ascorbic acid) - 60 mg

Vitamin D (as ergocalciferol) - 400 IU

Vitamin E (as di-alpha tocopheryl acetate) - 100%

Phytoceramides - 350 mg
Secondary Ingredients
Vegetable Cellulose (Vegetarian Cap)

Silica

Cellulose

Vegetable Stearate
Phytoceramides are used to replenish low ceramide levels, with ceramides helping to keep skin looking young, healthy, and wrinkle-free.  The manufacturer states that this product is made from phytoceramides that come from wheat, but the product label also clearly states that it is wheat free and gluten free and there is no information given on how this is the case.  We were admittedly leary about this seeming contradiction of information especially since research shows that phytoceramides that come from wheat are more successful in fighting the signs of aging over other grains such as rice.
This product has no artificial flavors or sweeteners.  It is sugar-free and according to the label, contains no wheat, gluten, egg, lactose, fish, sodium yeast, soy, starch, corn, preservatives and is also sodium free.  Note that the list of secondary ingredients contains fillers and binders which have been eliminated in many competing products.
Daily Serving
Instructions state to take one capsule daily with food or to follow the instructions of your healthcare professional.
Individuals who are pregnant, nursing, taking other medications or with any other medical conditions, or under 18 years of age, should consult their doctor before taking this product. If there are adverse reactions to taking this supplement, use of this supplement should be discontinued immediately.
The Cost
One 30-capsule bottle of Skin Restoring Phytoceramides costs $22.74 on the manufacturer's website, and discounts were not available for buying multiple bottles. Free shipping within the contiguous United States is available with a minimum purchase of $25.
Guarantee
The manufacturer offers a 30-day money back guarantee on unopened sealed products, but it does not include shipping cost fees. Unfortunately, if you begin to take the product and are unsatisfied with the results, the bottle, once opened, is not returnable.  And so Skin Restoring Phytoceramides does not effectively come with a satisfaction guarantee for people wanting to try this product risk-free.
Our Review Summary Of Best Naturals Skin Restoring Phytoceramides
Skin Restoring Phytoceramides is produced in the US, has GMP certification, and contains 350 milligrams of phytoceramides from a wheat source which is widely known to be preferred over a rice-based source of phytoceramides. However, we caution customers with wheat allergies to check on whether it is, in fact, wheat and gluten free.   
Curiously there was not one user review of this product on the manufacturer's website, and since the purchase of this product was not available on third-party websites, there is little data to support the overall purchase of this project.  Generally speaking, we also found that the manufacturer's website did not provide very much information about the product in comparison with competing products whose goal it is to help erase signs of aging, fight lines and wrinkles, and bring moisture and smoothness back to the skin.
Well researched reviews, from the experts at Research & You.