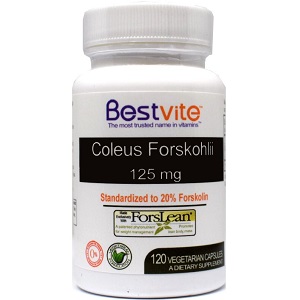 Bestvite Coleus Forskohlii - Does It Work?-Review
What is Bestvite Coleus Forskohlii?
Coleus Forskohlii a natural product that is standardized to 20% Forskolin. It claims to be made with Forslean, the only Forskolin ingredient that is said to be clinically studied and supported. Forskolin Coleonol is produced by an Indian plant of the Plectranthus family. It enables cell communication, hormone control and is believed to be an agent of weight loss. Coleus Forskohlii claims to promote a healthy metabolism, to aid weight loss and strengthen muscle mass. Bestvite claims their differentiation to be in their direct factory pricing and controlling of their own formulae. This review looks at the product Bestvite Coleus Forskohlii.
Ingredients & How It Works
        Coleus Forskohlii Root Extract (Forslean) Standardized to 20% Forskolin
        Vegetable Capsule
        Microcrystalline Cellulose
Coleus Forskohlii is an herb used in traditional ayurvedic medicines to improve the metabolism and strengthen lean body mass. Forslean is a patented formula claimed to lessen body weight and fat mass. The product does not contain any preservatives, sugar, salt, soy, dairy, wheat, eggs, starch, flow agents or stearates, nor any fillers. This product is free from magnesium stearate, which is a filler and a possible compromise of the immune system.
Daily Serving
Each serving has a 125 mg strength of Coleus Forskohlii.  Therefore two vegetarian capsules should be taken twice per day, as a dietary supplement, to provide the 250mg they say are needed per portion. The capsules should be taken 20 – 30 minutes prior to eating a meal with water. Taking 4 capsules per day should last for one month. Compared to other leading brands, 250mg is half the strength offered.
The Cost
A bottle of 120 Vegetarian Capsules Retails online at $19.99. A purchase of 2 is discounted by $0.50 per bottle. Should you buy 6, the price drops to $18.33 each. You can buy these capsules from Amazon who sells them for $18.04.
Guarantee
A 60-day Refund is guaranteed for customer dissatisfaction of any kind. They also vouch that they offer the lowest prices.  Therefore if you find the product priced lower anywhere else, up to 60 days subsequent to purchasing, Bestvite offers to match or beat that price.
There are numerous customer reviews of how great the product is, but almost as many that are indifferent.
Our Review Summary Of Bestvite Coleus Forskohlii
Bestvite Coleus Forskohlii has been developed with the highest quality and tested with state-of-the-art equipment.  It has been GMP certified. It is completely vegetarian. It contains Forslean, only the minimalist ingredients and does not contain magnesium stearate. A Customer care line is easily available for queries. Their customers sing praises of the product for those that it worked for. Some customers were left none the lighter. Though Bestvite claims to be able to sell their products at the lowest prices, we found cheaper prices on Amazon, therefore it would be prudent to shop around if you want to purchase this product. Other leading brands sell their capsules in 500 mg strength at even cheaper prices.
Well researched reviews, from the experts at Research & You.