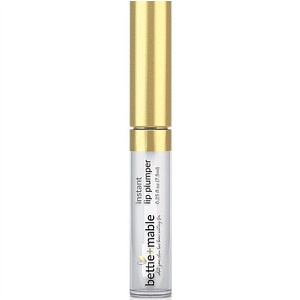 Bettie + Mable Instant Lip Plumper - Does It Work?-Review
What is Bettie + Mable Instant Lip Plumper?
The product Instant Lip Plumper is manufactured by Bettie + Mable. This company claims that their product not only locks in moisture but also helps to reduce lip wrinkles, acting as an anti-aging treatment, hydrating lips and making them look fuller. To learn more about this product and the claims the manufacturer makes, read this review. Discover the facts.
Ingredients & How It Works
Jojoba seed oil
Squalene
Ethylhexyl palmitate
Tribehenin
Sorbitan isostearate
Palmitoyl tripeptide-1
Sodium hyaluronate LMW
Sodium hyaluronate HMW
Benzyl nicotinate
Silica dimethyl silylate
Butylene glycol
Caprylyl glycol
Hexylene glycol
Tocopherol
These ingredients act to moisturize and offer elasticity to the lips while increasing collagen production so the lips appear fuller. However, this formula lacks any patented ingredients and any clinically proven ingredients.
Instructions
User instructions are clear but incomplete. The manufacturer of this product merely states that the user should apply this product mornings and evenings. However, the company fails to state whether there is a specific technique the user should follow, such as whether to work from the outside in or to take note of certain side effects, or perform a spot test to see how the product reacts on their lips.
The Cost
A 0.25-ounce tube of the product is available online at $32.30. No package deals or any other incentives such as discounts are offered to save consumers money over time or reward them for their loyalty.
Guarantee
The manufacturer of this product offers a 30-day money-back guarantee on this product. However, it may only receive a refund if the product is unopened. This means that the consumer cannot test the product.
Our Review Summary Of Bettie + Mable Instant Lip Plumper
The product in this review seems useful in that there is a 30-day money-back guarantee; however, this pledge does not allow the consumer to test the product. A benefit is that the ingredients moisturize and hydrate the lips. However, there are some negative concerns attached to this product. Besides the weak guarantee, this product does not offer consumers any discounts or bulk offers to help them save money. More so, this product lacks patented ingredients in the formula or any clinically proven ingredients which would have confirmed the quality of the product. There are other, similar products on the market currently, that contain at least five clinically proven ingredients. Lack of these creates a major downside for any product. Besides the weak guarantee, lack of incentives, and quality ingredients, the instructions are insufficiently detailed. Having clear and succinct instructions would allow the user to achieve optimal results with the product. Consumers should be aware that there are some negative aspects that can counter the claims made by the manufacturer. With all that mentioned, there are many other similar products on the market at the moment. Most of these products, however, offer better quality ingredients, has a firm guarantee and package deals with decent discounts. Plus, those type of products, besides being backed by scientific studies, have an abundance of reviews.
Well researched reviews, from the experts at Research & You.