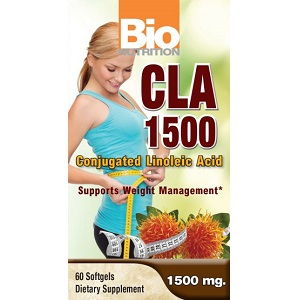 Bio Nutrition CLA 1500 - Does It Work?-Review
What is Bio Nutrition CLA 1500?
This is a review for CLA 1500, a dietary supplement that claims to assist its user with weight loss and building muscle mass. Also known by its unabbreviated name, conjugated linoleic acid - is a fatty acid naturally found in meats and dairy. However, this CLA product has been extracted from extra virgin safflower oil. It is suggested that CLA should be used with a low-calorie diet and exercise regime - in order to promote fat loss. The use of this product has also been associated with the benefit of the cardiovascular system.
Ingredients & How It Works
Conjugated linoleic acid
Palmitic
Stearic
Oleic
Other fatty acids
Gelatin (bovine),
Vegetable Glycerin,
Water
Color
The combination of ingredients in this product is meant to help the user by interfering with fat storage, reduce blood pressure and enable fat burning. While this product does seem to contain good ingredients, after some research we have found that if palmitic acid is consumed in high volumes, it may increase the possibility of cardiovascular disease. While stearic acid is frequently used in the manufacturing of soaps and shampoos as a hardening agent. Another concern we have with CLA 1500 is that this product contains an unspecified colorant and bovine gelatin.
Daily Serving
The manufacturer suggests that two CLA 1500 (1.5 g)  softgel capsules should be taken once or twice on a daily basis with meals. However, studies have shown that 3.4g of CLA should be taken for effect - meaning that the suggested dose can either be too high or too low.  is advisable to consult a healthcare professional before starting use. This product should also not be taken if pregnant or while breastfeeding.
The Cost
You can buy CLA 1500 online, directly from the manufacturer's website for $14.95. Unfortunately, there are no discounts or bundle deals currently available for this product.
Guarantee
Upon inspecting the manufacturer's website we found that if you are not satisfied with the results of the product, you can return the product only if it is in the original packaging including the outer box and receipt. This guarantee only lasts 30 days, during which you can get a full refund (only one per household). However, this satisfaction guarantee was not evident on the product page itself. If the product was damaged and returned, a 10% restocking fee will be charged.
Our Review Summary Of CLA 1500
In conclusion. We like that CLA 1500 does contain some ingredients that may assist with the weight loss process and that the manufacturer provides a money back guarantee. We also had some concerns with this product regarding its effectiveness. If the user follows a strict calorie restricted diet and exercise plan it is very likely that they will lose weight without additional supplements, this raises questions around if this product actually works. Furthermore, this product contains unspecified ingredients and some that may have negative effects, such as the palmitic acid. 
Well researched reviews, from the experts at Research & You.