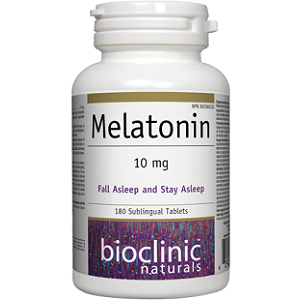 Bioclinic Naturals Melatonin - Does It Work?-Review
What Is Bioclinic Naturals Melatonin?
In this review, we will be looking at a product from Bioclinic Naturals called Melatonin. Individuals who travel quickly across multiple time zones often experience the symptoms of jet lag. When you travel in an airplane for long periods the limited space, cabin pressure, recycled air and shifting time zones leave you with a variety of unpleasant symptoms. The worst of these symptoms are fatigue and an inability to sleep. This product may help to alleviate this fatigue. According to the producers of this product, continued use will help you maintain a healthy sleep cycle.
Ingredients & How It Works
Melatonin
Lactose monohydrate
microcrystalline cellulose
natural peppermint flavor
Croscarmellose sodium
Vegetable grade magnesium stearate (lubricant)
When we first examined the ingredients included in this formula, we found that it could be quite effective for individuals who want to relieve the inability to sleep associated with travel. However, we were rather shocked to discover that this product contains a wide variety of additional ingredients. These ingredients act as additives, preservatives, fillers or binders. This is concerning as it could make this product unsuitable for people with allergies to consume.
Daily Serving
The manufacturers of this product recommend that you take one capsule before going to sleep for the evening. This capsule should be dissolved under the tongue. The manufacturer also recommends that if you are pregnant, breastfeeding or are already taking other medications you consult your doctor before taking this supplement. Additionally, they say you should avoid driving for five hours after taking this product.
The Cost
Sadly, you cannot buy this product from the manufacturer. We could find this supplement on a variety of other stores that act as third-party sellers. Unfortunately, there is only limited stock available of this product so you will need to act fast. One bottle of this dietary supplement is available for $38.80. We were unable to find any discounts or special offers for this product.
Guarantee
Unfortunately, the manufacturers of this product do not offer any guarantees or return policies for this product. We were rather concerned to discover this as guarantee always reassures us that the manufacturer is confident in their product. A guarantee indicates that the company believes they are producing the best possible product.
Our Review Summary of Melatonin
Once we completed our review of this product, we concluded that it was a rather good product. This product could provide sleep support for individuals who have traveled long distances. There is only one active ingredient included in the formula. Additionally, we were able to find several reviews for this product that seemed rather positive. However, we believe there are quite a few issues with this product. Firstly, we found that this product is rather expensive when compared to similar products. Additionally, we believe that this product does not contain several of the key ingredients that one would expect to find in a product like this. Finally, we were disappointed to find that there are no guarantees available for this product.
Well researched reviews, from the experts at Research & You.