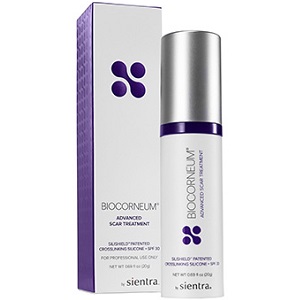 BioCorneum Advanced Scar Supervision - Does It Work?-Review
What is BioCorneum Advanced Scar Supervision?
BioCorneum Advanced Scar Supervision is a gel that is designed to be applied on a wound to prevent or reduce the likelihood that it will form a scar. Scars are natural fibrous structures which form when the skin is injured and broken apart.  Due to the large amount of fibrous tissue scars can have a very unpleasant appearance and may even functionally impact the area which they affect. In this review we closely inspect BioCorneum Advanced Scar Supervision and assess it as a scar removal product.
Ingredients & How It Works
Octinoxate
Octisalate
Octocrylene
Oxybenzone
Polysilicon
Silicon Dioxide
Isopropyl Myristate
Each of the first four ingredients listed are typically used as a sunscreen. The remainder of the ingredients consists of substances which are large chemical polymers that form a layer over the skin that traps moisture in the affected area.  It also stops outside agents such as bacteria from entering. The increased moisture and sterile area helps the wound to heal better and quicker which should reduce the amount of scar tissue formed.
Although this combination of ingredients is good, this product lacks substances that provide nutrients or metabolites that promote skin regeneration.
Daily Serving
The affected area should be cleaned and dried before application. This gel should be applied  and allowed to dry twice a day preferably 15 minutes before sun exposure.
The sun protective substances occur in concentrations between 5 and 10 percent,  which is the optimal dosage of these kinds of topical substances.
The Cost
There are various pricing arrangements depending on the volume of this product that a customer wishes to purchase. A 0.35 oz bottle will cost $35.00, a 0.7 oz bottle will cost $69.95 and 1.8 oz costs $95.00.
Guarantee
BioCorneum does offer a guarantee that is valid for 45 days after purchase.  However, if the product is opened which it would be after trying it, the refund only covers anywhere from 85% downward of the original purchase price.
Our Review Summary Of BioCorneum Advanced Scar Supervision
The ingredients present in this gel are back quite substantially by scientific research and patents and it is one of the few treatments that specifically offers protection from the sun. The directions for use are clear and dosage of the active ingredients are optimal.
We do find the guarantee to be seriously lacking in terms of customer support. Biocorneum is essentially charging customers for being dissatisfied with the use of their product which is quite like not having a guarantee at all.  In this regard,  we find the price to be quite high.
The manufacturer also does not provide any space for customer reviews on their own website and so customers must rely on reviews from third-party websites.  These reviews are not outstanding for this product either. Only 56% of customers were completely satisfied.  We simply do not believe this to be the best scar removal treatment. 
Well researched reviews, from the experts at Research & You.