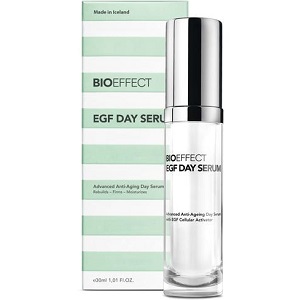 Bioeffect EGF Day Serum - Does It Work?-Review
What is Bioeffect EGF Day Serum?
Bioeffect EGF Day Serum is a product that claims to reduce changes in the skin related to age like fine lines and wrinkles. It hydrates the skin so that it can have a natural glow and smooth texture. This product is paraben free and does not contain any fragrances, alcohols or oils. It is also hypoallergenic and is cruelty free. This review examines how well this product works.
Ingredients & How It Works
Sodium Hyaluronate
Hordeum Vulgare Seed Extract
Transgenic Barley Sh-Oligopeptide-1
Sodium hyaluronate is included to provide the skin with its two components, the sodium and the hyaluronic acid. Hyaluronic acid is by far the more active of the molecules and it helps skin cells to rejuvenate in several ways. It has been shown to help keep the cells hydrated, play a role in modulating inflammation and most importantly, it has a vital function in restoring the architecture of a damaged tissue like aged skin.
Hordeum vulgare extract contains a number of antioxidants and nutrients for the skin. Hordeum vulgare is the scientific name for barley which the third and most unique ingredient is. The third ingredient is a genetically modified protein from a genetically modified barley plant that is meant to act like a human epidermal growth factor. Growth factors are meant to help cells divide  but have also been implicated in the generation of cancer. There is little evidence to support its effectiveness scientifically speaking and there are some concerns about its safety.
Instructions
This product is to be used during the day time and is best to applied in the morning. Place one or two pumps of the product onto the face and neck using the pump action cap. Then wait between 3 and 5 minutes for the product to absorb completely. Makeup or sunscreen can be applied on top thereafter.
The Cost
The cost of 1 fl oz of this product is $145. There are no bulk discounts or subscription service discounts but customers can receive a percentage off when they sign up for the manufacturer's newsletter. The price does include shipping but we still believe that it is an unreasonable price based on the lack of scientific evidence for the ingredients and the small number of patented ingredients available in this product.
Guarantee
On top of charging an exorbitant price the manufacturer explicitly states that they do not accept any returns unless there has been an error on their side and the customer has received a damaged or defect product. Their policy states that the customer assumes responsibility for the purchase which, to us, shows a blatant disregard for customer satisfaction and actually suggests that the manufacturer has no confidence in their product.
Our Review Summary Of Bioeffect EGF Day Serum
It is unfortunately quite difficult to find major positives about this product. The directions for using it are quite clear but apart from that it is simply an overpriced unguaranteed product which has very little scientific backing. Many of the patented ingredients of other manufacturers have got strong clinical studies to support their effectiveness and we have been unable to find good research for this one. 
Well researched reviews, from the experts at Research & You.