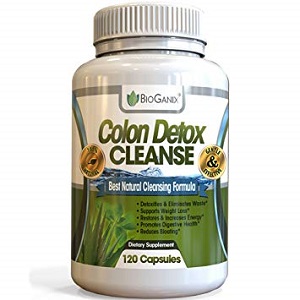 Bioganix Colon Detox Cleanse - Does It Work?-Review
What is Bioganix Colon Detox Cleanse?
This review will take a close look at Bioganix Colon Detox Cleanse. It is a supplement that is designed to cleanse your colon, by eliminating waste, decreasing bloating and improving your digestive system. It is also intended to promote weight loss.
Ingredients & How It Works
Calcium
Proprietary Blend:

Oat Seed
Alfalfa seed
Psyllium Husk
Lactobacillus acidophilus
Rhubarb Root
Gentian Root
Buckthorn Bark
Bentonite
Aloe vera leaf
Goldenseal Root
Cascara Sagrada Bark
All these ingredients work together in promoting good colon health, and weight loss. For instance, Psyllium husk helps with constipation, by increasing the bulk in your stool, which causes movement in your intestines. It also increases water in the stool, making it softer and easier to pass. Alfalfa seed could also be beneficial in relieving upset stomach, but there is insufficient evidence on that claim. Aloe Vera might be too strong for your colon. Even though it is a powerful laxative, and was once sold over the counter for constipation. It was later discontinued due to safety concerns.
Daily Serving
As a dietary supplement, the recommended dosage is 2 tablets, taken with a first meal for the day. If well tolerated, you can take another 2 tablets with the last meal for the day. Take them for 15 days, until the 60 tablets are used up. The instructions are a bit confusing because if you take two tablets a day for 15 days, there is no way that the 60 tablets will be used up.
The Cost
You can purchase Bioganix Colon Detox Cleanse directly from the manufacturer's website for $17.97 for once off purchase. You get 10% off when you buy on subscription, which means that you get a delivery every 30 days. There is also a 5% off on your first purchase, and you get free health newsletter and tips.
Guarantee
The manufacturer offers a 60-day money-back guarantee. This is good for the customer because at least they can return it for a refund if they are unsatisfied.
Our Review Summary Of Bioganix Colon Detox Cleanse
Bioganix Colon Detox Cleanse seems to be a promising product. All the ingredients in it are natural, and some have shown the ability to have some effect in promoting a good digestive health. We are happy that there is a money-back guarantee because it shows that the manufacturer believes in their product and that they care about your satisfaction. We also like that the manufacturer offers discounts. However, we feel it is unnecessary to subscribe to receive the supplement every 30 days because it is supposed to be used for colon cleansing once off. Continuous use of colon cleanse products could end up causing problems in your digestive system. Rather buy it once and pay more if you have to, instead of compromising your health due to a discount. We are also not happy that the instructions are not completely clear because you will not be able to take 2 capsules with the first meal and another 2 with the last meal if you can't tolerate it, which means that you will not be able to use up the 60 tablets within 15 days. We worry that this might have an impact on the results. We are also concerned about the aloe vera because it has very strong laxative properties. Rather buy a product with clear instructions and one that does not contain aloe vera to protect your health. 
Well researched reviews, from the experts at Research & You.