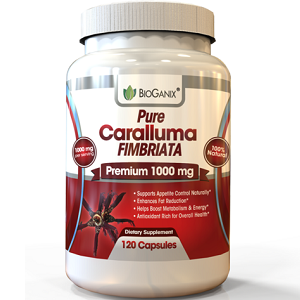 BioGanix Pure Caralluma Fimbriata - Does It Work?-Review
What is BioGanix Pure Caralluma Fimbriata?
We are reviewing BioGanix Pure Caralluma Fimbriata, a supplement designed to help individuals trying to lose weight who are looking for an appetite suppressant that also functions as a fat loss diuretic.   
Ingredients & How It Works
Primary Ingredient
Caralluma Fimbriata - 1200mg
Secondary Ingredient
Vegetable Cellulose (Veggie Cap)
The ingredient list is certainly natural and does not have any fillers or binders. The primary ingredient, Caralluma Fimbriata, is a member of the cactus family.  It is known to suppress the appetite by interfering with hunger messages sent to the brain by the hypothalamus.  It is important that Caralluma Fimbriata in the ingredient list be listed as 100% pure Caralluma Fimbriata, which is not the case for this product which happens to have the word "pure" in its title but does not assure consumers that it is, in fact, pure in the ingredient list.  Pure forms of Caralluma Fimbriata are understood to be the most effective in clinical studies for weight loss, and only if it comes from the actual cactus is it considered 100% pure; it cannot be grown in a lab.
Daily Serving
Instructions on the Pure Caralluma Fimbriata bottle state to take 2 capsules twice a day, for a total of 4 capsules daily, approximately 30-40 minutes before eating, or as directed by your healthcare professional.  
Users of this product are warned not to exceed this recommended dosage.  Additionally, individuals under 18 years old, nursing mothers, pregnant women, and anyone with a medical condition should be sure to consult their healthcare professional before using this product.
The Cost
All orders for this product are fulfilled by a third party website and sells for $19.97 per bottle. At this time, shipping is only available to customers in the United States and shipping costs are free.  The manufacturer mentions that they hope to be able to ship Pure Caralluma Fimbriata to international addresses in the future.
Guarantee
The manufacturer states on their website that they offer a full 365-day money back guarantee on all of their products, and they list instructions about how to request the refund assuring consumers that all requests for a full refund will be honored. It is certainly reassuring to have a manufacturer stand behind their product with this type of risk-free purchasing.
Our Review Summary Of BioGanix Pure Caralluma Fimbriata
Made in the USA and with GMP certification, this is a good overall product to help individuals with their weight loss goals. Unfortunately, there are mixed user reviews on the third party website pointing to the fact that the product did nothing to curb the appetite to users suffering from severe stomach pains which according to medical websites is a common side effect of taking this product.  But the clear majority of reviews simply noticed no change at all in taking Pure Caralluma Fimbriata - that is there was no change in appetite, no change in metabolism, and no results in weight loss goals. This may be because the primary ingredient, Caralluma Fimbriata, is not 100% pure.  If manufactured in a laboratory, it is known to not be effective.  Interested customers should be guided to look for 100% pure Caralluma Fimbriata in the ingredient list for products on the market that also carry a 100% satisfaction guarantee.
Well researched reviews, from the experts at Research & You.